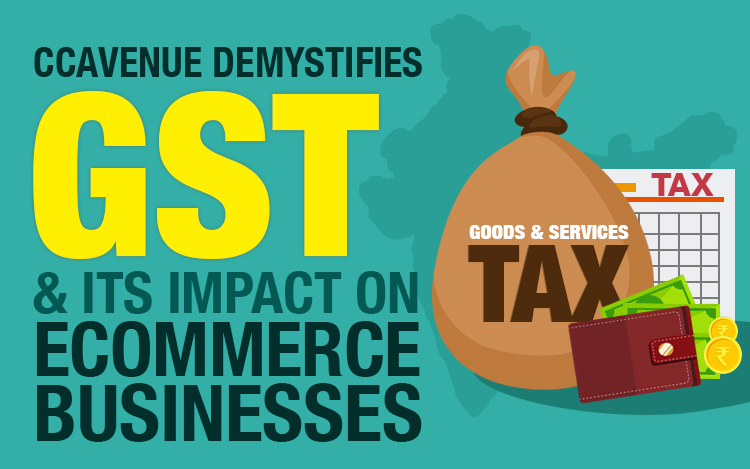 The Goods and Services Tax (GST), the single biggest tax reform in India ever since independence was rolled out on July 01, 2017. With the goal of 'One Nation, One Tax' GST replaces the multiple cascading taxes like sales tax, service tax, VAT, entertainment tax, luxury tax and excise duty levied by the central and state governments. This uniform indirect tax for goods and services is applicable right from manufacturers to the end consumers. It will not only simplify tax procedures and make compliance easier but will also reshape India's economy and increase the national GDP. All e-commerce businesses are required to register and be GST compliant, regardless of whether they have traversed the threshold limit or not.

At CCAvenue, we have been constantly supporting our merchants to comply with the GST laws and transition smoothly to the GST network.

Know more about how CCAvenue assists merchants become GST ready

Know more about GST and its impact on ecommerce businesses
Upgrade to TLS 1.2 Standard Now and Continue Accepting Payments Securely
Have you upgraded your website to the latest TLS 1.2 security protocol? If not, then we recommend that you do so at the earliest. The Payment Card Industry ("PCI") council, along with Visa and MasterCard, have mandated all Merchants, Service Providers and Banks to ensure that their systems are TLS 1.2 compatible so as to establish secure server-to-server connections for processing online transactions successfully without potential threats.

Effective from 1st January 2018, CCAvenue will discontinue support for previous versions TLS 1.0 and TLS 1.1. If your system has not been upgraded to TLS 1.2 protocol by then, transactions on your website will not be successful.


CCAvenue Enriches Its Advanced Platform with Additional Payment Options For The Benefit of its Huge Merchant Base
RuPay Credit Card
CCAvenue is one of the first few PGs in the country to be offering the RuPay Credit Card option.
Read More
ICICI Bank ATM-cum-Debit Card
CCAvenue has recently included the ATM PIN Debit Card Option of ICICI Bank, India's largest private sector bank.
Read More
Janata Sahakari Bank
Net Banking
CCAvenue.com integrates the net banking facility of Janata Sahakari Bank to its vast payment platform.
Read More
INDUSTRY NEWS
Emerging Trends in Mobile Payments Processing for 2017 & Beyond
Source: iamwire

Mobile devices handle everything. From online shopping, to errands and paying bills. Just name it, your mobile devices can complete everything within seconds. Read More
Digital Payments 2020 - The Making of a $500 Billion Ecosystem in India
Source: The Boston Consulting Group

The payment landscape in India is evolving at a dizzying pace, with digital payments displaying an exponential growth. Read More
Enchasing on Digital: Financial Services in 2020
Source: The Boston Consulting Group

India is on the cusp of a digital revolution. With rising internet and smartphone penetration and lowering mobile data cost, digital Indians are rapidly increasing.
Read More
UPI transactions grow 12% in July 2017; Rs 3411 cr transacted
Source: Medianama

The number of UPI transactions in July was around 160% higher than they were at the end of January 2017, accounting to a 12% growth in the total transaction volumes taking place between June and July 2017. Read More
India had 30.86M credit cards, 880.03M debit cards in May 2017
Source: Medianama

The number of credit and debit cards in India is steadily increasing but debit card issuance outgrew credit cards. Between May 2016 and May 2017, India added some 0.48 million credit cards and 13.03 million debit cards. Read More
Google Gearing Up To Enter Mobile Payments In India By Integrating Android Pay With UPI
Source: Inc42

Google is in advanced talks with the National Payments Corporation of India to integrate UPI on its digital payment app, Android Pay and has already begun testing UPI-enabled payments. Read More
NPCI gets RBI nod to operate Bharat Bill Payment System
Source: Livemint

The Reserve Bank of India's (RBI) final nod to the National Payments Corporation of India (NPCI) to operate the Bharat Bill Payment System (BBPS) will provide a major push to digital payments and formalize the bill payment system in the country.
Read More
India among top nations with potential for digital payments: Digital Evolution Index
Source: ETRetail.com

India has emerged strong, exhibiting a high potential in terms of digital payments and has been categorized under the 'break out' segment among 60 countries, according to the Digital Evolution Index 2017. Read More