CCAvenue wishes you a prosperous 2017! The past year has been extremely challenging and productive for CCAvenue. With a series of path-breaking implementations and achievements, we look forward to a brighter future for eCommerce businesses in India.



Here's a quick summary of our key achievements and implementations in 2016: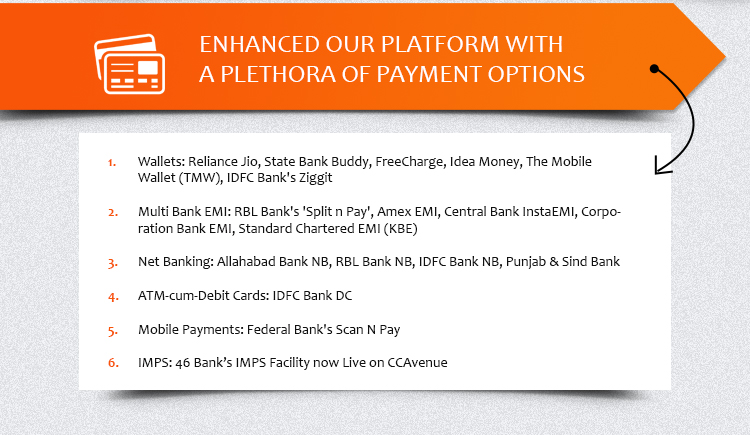 Avenues Wins the Prestigious Skoch Payments Award for CCAvenue S.N.I.P
Adding yet another feather to its cap, CCAvenue recently bagged an award in the 'Silver' category at the prestigious Skoch Payments Award 2016 for its proprietary social media payment system, CCAvenue S.N.I.P. (Social Network in-stream Payments). The awards ceremony was held at The Constitution Club of India in New Delhi and was a part of the 46th SKOCH Summit organized by the Skoch Group on 15th December, 2016. Since 2003, Skoch Awards is regarded as one of the highest independent awards in India. In addition to the Silver Award, CCAvenue also achieved the Skoch Order-of-Merit for qualifying amongst the top 100 projects in the country. These awards bear testimony to CCAvenue's pioneering contribution in the field of eCommerce and digital payments in India for the past 15 years.
Know More
Avenues Achieves PCI DSS 3.2 Certification For Its World-Class Payment Solutions
Avenues India, the recognized eCommerce solutions provider and the parent company of CCAvenue.com, has recently achieved certification for PCI DSS version 3.2. With this remarkable accomplishment, Avenues has consolidated its position as one of the most secure business enabling platforms in the country. The Payment Card Industry Data Security Standard (PCI DSS) is a set of proprietary security standards mandated by major credit card providers including American Express, Discover Financial Services, JCB, MasterCard Worldwide, and Visa International to protect cardholder data from identity theft and security breaches. PCI DSS 3.2 is the latest version sanctioned by the PCI Security Standards Council.

Avail our payment gateway services to reap the benefits of our PCI DSS 3.2 compliant processes that help prevent fraud-related losses and safeguard your confidential data 24x7, thereby creating an environment instilling confidence amongst all players in the business ecosystem.
Know More
CCAvenue Expand Its Payment Portfolio with New and Exciting Payment Options To Enhance Your Business Potential Significantly
CCAvenue became the first third party payment aggregator to include Airtel Payments Bank's Net Banking facility in its platform.
Read More
CCAvenue has added the Aircel Money Wallet in its rapidly expanding payment network.
Read More
INDUSTRY NEWS
To Push Digital Transactions, Govt Announces Lucky Draws For Merchants And Citizens
Source: Medianama

To incentivize people to adopt digital modes of payment, the government has announced two programmes which will provide cash awards to customers and merchants.
Read More
A Look At Digital Wallet Transactions In December 2016
Source: Medianama

Helped by the Indian government nudging citizens to go cashless, Mobile Wallet (PPI) transactions for goods and services appear to be on their way up.
Read More
Myntra Targets $2 Bn Revenue Run Rate, Profitability In FY18
Source: Techcircle

Flipkart-owned online fashion retailer Myntra said the company has crossed $1 billion in annualised run rate, riding on an impressive 80% year-on-year growth. Read More
The Legal Framework For E-Payments In India And The Challenges It Faces
Source: Techcircle

Electronic monetary transactions and mobile wallets have been at the centre stage since the government's announcement on demonetisation. Read More
Govt Launches DigiShala, a 24-hour TV Channel to Spread Awareness on Digital Payments
Source: NextBigWhat

In an effort to promote digital payments in the country, the Ministry of Electronics and IT has launched a new 24-hour TV channel called DigiShala. Read More
ShopClues Launches 'Reach', A Payment Solution For Offline Merchants
Source: NextBigWhat

E-commerce marketplace ShopClues has become the latest company to join the digital payments bandwagon, with the launch of 'Reach', a payment solution for offline merchants. Read More
Influence and Scope of E-Commerce in Tier II and Tier III Cities
Source: iamwire

The E-Commerce industry witnessed an unprecedented growth over the last 5 years. 2014 being the 'year of the mobile' provided the much needed push to the retail revolution. Read More
Cash Crunch – Curse Or Boon For E-Commerce?
Source: iamwire

E-Commerce is thriving worldwide, however it is as yet confronting hindrances in inclining up in India. Read More
Govt Reduces Tax For Small Traders On Digital Transactions
Source: Yourstory

Small traders and businesses with a turnover of up to Rs 2 crore will pay less tax if they accept payments through banking and digital means, Finance Minister Arun Jaitley said recently. Read More
From Rs 30 Cr To Rs 1,800 Cr In 5 Years, BigBasket Says They Are Just Getting Started
Source: Yourstory

This December, the online grocery startup completed five years, and it has been, in Hari's own words, a great, roller coaster ride. Read More