Having trouble viewing this email? View it in your browser
| | | |
| --- | --- | --- |
| | | July 2021 |
Seamless onboarding is turning into a strategic differentiator in the digital payments industry. With the simplification and automation of our merchant onboarding process, CCAvenue has increased the speed of on-boarding merchants considerably while still following proper due diligence and risk evaluation to help protect the financial ecosystem. The traditional on-boarding process for merchants was time-consuming and labour-intensive.

In order to overcome these challenges, CCAvenue streamlined the merchant onboarding process taking into consideration the guidelines of the regulator, industry best practices, recommendations of banking partners and most of all, our 20 years of experience of on-boarding and managing countless merchants on our system. CCAvenue has introduced the one-click sign-up process comprising Information Scrutiny, Document Verification, Due Diligence and Manual Checks. With the new changes set in place, the merchant can go live with us quickly and without hassles.

Our merchant onboarding process is now faster, easier and frictionless!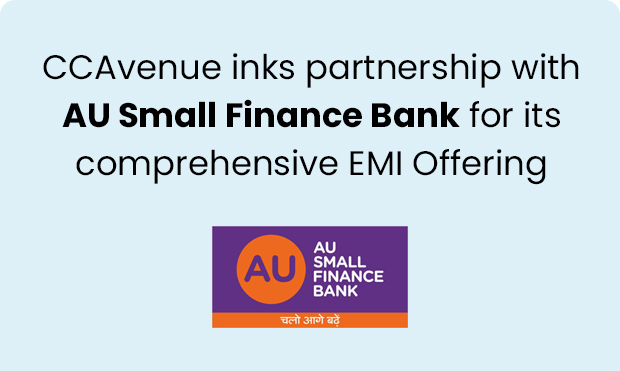 With the primary objective of maximizing the earning potential of its huge merchant base, CCAvenue is partnering with AU Small Finance Bank to offer its best-in-class EMI facility as a mode of payment on innumerable eCommerce websites in the country. CCAvenue is currently the provider of maximum EMI options in India, offering the EMI facilities of 13 leading banks including HDFC Bank's Debit Card EMI option. AU Small Finance Bank started its success story as an NBFC (Non-Banking Financial Company) with the objective of serving customers in the rural and semi-urban areas.

The bank has established operations across 744 banking touchpoints while serving 20.2 lakh customers in 15 states and 2 union territories. Significantly, AU Small Finance Bank is listed on NSE & BSE with market capitalization of over Rs. 30,000 crore. This partnership will provide our merchants with new opportunities for accelerating business growth. Moreover, the new payment option will offer greater financial flexibility to the end consumers shopping on lakhs of websites powered by CCAvenue.



Financial inclusion to remain RBI's priority: Shaktikanta Das

Source: Livemint

RBI's Das said all stakeholders must ensure that risks like mis-selling, cybersecurity and data privacy are addressed and trust be promoted...
Read more

How BNPL Is revolutionising the education sector

Source: Inc42

COVID-19 has been a catalyst for the growth of the ecommerce industry, which in turn has led to a surge in BNPL platforms..
Read more

UPI-based payment apps, digital wallets now eye smaller towns

Source: Financial Express

As per data by EY, UPI-based digital transactions have increased by 110% in volume and 109% in value, from June, 2020 till June, 2021...
Read more

Proposed ecommerce norms can increase compliance burden for firms: IAMAI

Source: Yourstory

The proposed ecommerce regulations could negatively impact consumer interest, while creating a high level of ...
Read more

Disclaimer: We do not claim ownership over the images / articles appearing in the Industry News section. They are used for information purposes only and in no way are meant to claim ownership over any of the above mentioned. All photos, videos, articles, etc. are copyrighted to their original owners.
E-mail: contact@ccavenue.com
Copyright © 2021 INFIBEAM AVENUES. All Rights Reserved.