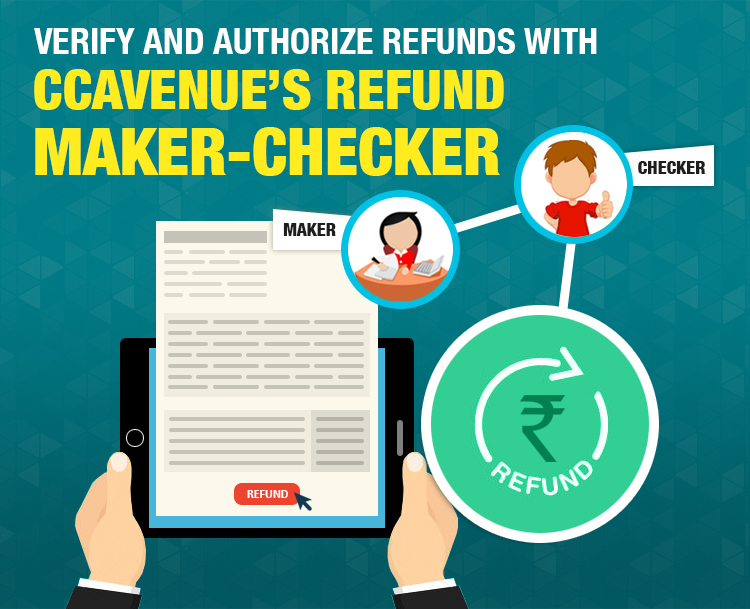 Maker-checker is a dual approval concept which is widely implemented to minimize the impact of human errors or prevent individual misdemeanor. CCAvenue's Refund Maker-Checker plays an important role in segregation of duties, ensuring that no single employee has complete control over the refunds. While one individual (maker) initiates the refund, the other individual (checker) reviews and authorizes these refunds. The refund initiated by the Maker is parked until the Checker verifies and releases them for further processing. This process ensures strict control over the system and data, reducing operational risks in the form of inaccuracies or frauds.
CCAvenue Exhibits Its Innovative Payment Solutions At The 2017 Seamless eCommerce Middle East Expo
The Seamless eCommerce Middle East Expo was organized on 1st and 2nd May this year at the Dubai International Convention and Exhibition Center. More than 300 speakers, 350 exhibitors and 10,000 attendees participated in the event. CCAvenue demonstrated some of its topnotch services at the expo including its state-of-the-art multi-currency payment gateway, a fully digital and responsive store front, Invoice Payments, CCAvenue S.N.I.P, a lucrative social commerce facility, CCAvenue PhonePay, an enterprise-level fully hosted secure IVR (Interactive Voice Response System), Advanced Marketing Tools, and more that facilitate seamless and secure online payments across all devices and platforms. The CCAvenue stall welcomed a large number of visitors eager to learn about the brand's advanced payment solutions. Since 2014, our feature-rich platform has been enabling U.A.E. based web merchants to digitize and grow their business efficiently. Read More
CCAvenue Wins 'Best Innovation In Ecommerce Payment' For The Second Consecutive Year At The Indian E-Retail Awards
Adding yet another feather to its cap, CCAvenue.com recently bagged an accolade at the prestigious Indian e-Retail Awards 2017, organized by Franchise India. The glittering event was held on 15th May at the JW Marriott Hotel in New Delhi. CCAvenue received recognition for its powerful social commerce facility, CCAvenue S.N.I.P. under the 'Best Innovation in eCommerce Payment' category. Now in its sixth edition, the Indian e-Retail Awards was conducted as a part of the Indian Retail and eRetail Congress 2017. It plays host to the who's who of the industry by offering them a unified B2B platform to discuss intrusive business insights and future vision sharing. Being India's largest online payment processor, CCAvenue has always endeavoured to simplify and enhance eCommerce interactions by leveraging technology and in-house expertise. The payment gateway shall continue to introduce new business enhancement tools in the years and months ahead towards the attainment of this objective. Know More
INDUSTRY NEWS
NDTV Reports Rs 8 Crore Profits For Its Digital Business For Q4-FY17
Source: Medianama

NDTV's digital profits were greater than their overall profits for the quarter ended 31st March 2017. Digital profits doubled year on year to Rs 8 crores, while the overall profits of the NDTV group were Rs. 5 crores. Read More
Mobile Wallet Transactions Grew 575.3% Year On Year in March 2017
Source: Medianama

The number of transactions for mobile wallets grew by 60.5 million in March 2017 while the total amount transacted was up by Rs 401 crores. In February 2017, the number of transactions had declined by 14.7 million. Read More
Using UX & Analytics To Increase Customer Retention And Conversion Rate
Source: iamwire

In today's digital world, mobile phones are concurrent to human existence. Business via mobile is the present day muse for the E-commerce industry. Particularly in a mobile-first economy like India. Read More
How You Can Stop Procrastinating and Kickstart Your Startup Now
Source: iamwire

The secret of most products that are a hit in the market are simple: they're useful and they make sense!
Gone are the days when the traditional business process was the thing. Read More
India's Book Buying Behavior: Edu Sector Rules The Market
Source: NextBigWhat

Indians are reading and reading a lot of books, it seems. Led by educational books, the sector is set to grow at an average compound annual growth rate of 19.3 percent until 2020. Read More
All You Need To Know About B2B Ecommerce Models
Source: NextBigWhat

Currently, our B2B ecommerce market is estimated to reach $ 40Bn this year and expected to reach 2.5 times of B2C ecommerce market in 2020. B2B ecommerce segment is showing signs of rapid digital acceptance. Read More
Is 'Visual Commerce' The Future Of E-commerce?
Source: YourStory

E-commerce has been growing exponentially in India and around the world. But can visual search and social commerce take it to another level.
Read More
How to survive a WannaCry
Source: YourStory

Educating users on how to identify possible payloads and avoid them would seem to be the best approach against ransomware - after all, prevention is better than cure.
Read More
Snapdeal moves to larger office as merger talks with Flipkart in last leg
Source: VCCircle - VCC Startups

Even as its impending merger with rival Flipkart inches closer, Jasper Infotech Pvt. Ltd, which operates e-commerce firm Snapdeal, has shifted its registered office address to a newer and larger commercial space. Read More
Paytm Payments Bank Goes Live, Offers 4% Interest Rate
Source: VCCircle - VCC Startups

After Airtel and India Post, digital wallet firm Paytm has become the third entity to launch a payments bank on a select, invite-only basis. Read More