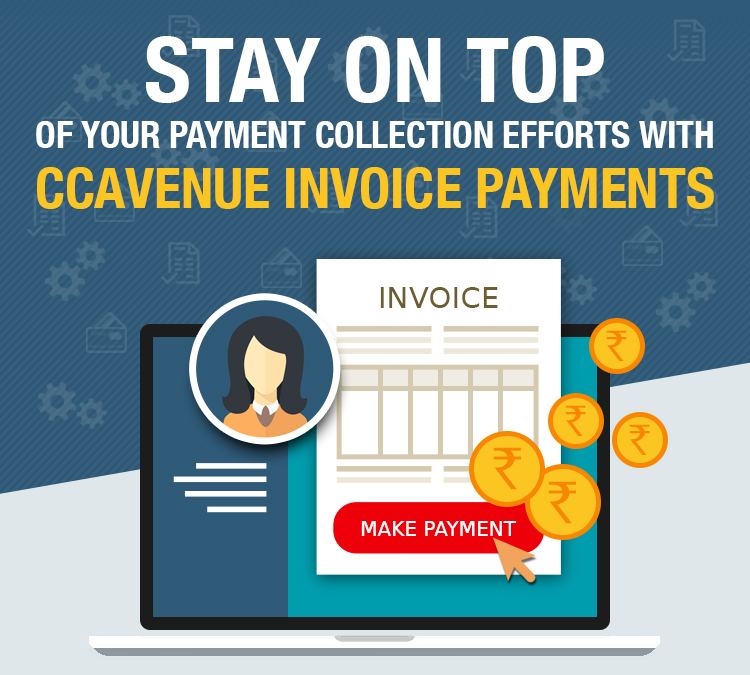 Drive revenue for your eCommerce business using our payment link solution. Merchants can create a simple or itemized digital invoice in minutes and share it as a payment link with their customers via Email or SMS instantly. Customers can then simply click on the link to complete the payment by choosing from 200+ payment options, including all the major Credit Cards, Debit Cards, Net Banking, Wallets, UPI and Bank IMPS modes. CCAvenue Invoice Payments improves the cash flow of your business significantly by facilitating faster payment collection through quick and easy billing. It also allows you to set up recurring invoices and submit invoices in bulk to save time. Post Demonetization, many more SMEs have started availing our payment link feature, enabling them to collect payments through a wide range of payment methods and stay relevant with the changing times.

Now get paid quickly and easily with CCAvenue's online invoicing facility!
Join the Social Commerce Bandwagon
As per recent surveys, the number of social network users in India was estimated to be approximately 216 million in 2016, and is expected to reach 336 million by 2020. Facebook alone accounts for nearly 195 million users. This phenomenal growth in social media usage has led to a sharp rise in social shopping with many customers preferring to buy directly from the social media pages of businesses on Facebook, Twitter and other leading social networks. CCAvenue, your preferred payment gateway, developed India's first true social commerce facility for its merchant partners in a bid to help them augment their revenue stream substantially.

CCAvenue S.N.I.P.

enables you to sell products and collect payments in-stream across social networks by reaching out to your fans, friends and followers on these sites.



Now avail our CCAvenue S.N.I.P. facility and monetize your existing social media platform!

Read More
CCAvenue Bags Award For 'Best Innovation In Payments & Transfers' At The Prestigious MoneyTech Awards Organized By Entrepreneur India
In recognition of its pivotal role in the advancement of the eCommerce revolution in India, CCAvenue has won several accolades through the years. A recent addition was the award for 'Best Innovation in Payments & Transfers' which we received at the MoneyTech Awards presented by Entrepreneur India at the JW Marriott Hotel, Aerocity, New Delhi on April 10, 2017. The MoneyTech Awards is a prominent platform that recognises and rewards the brilliant work that companies are doing in the FinTech domain around the country. This award will further inspire CCAvenue in developing best-in-class solutions backed by cutting-edge technology to create maximal business opportunities for our 1 lakh+ web merchants in India. Know More
INDUSTRY NEWS
NPCI Is Trying To Merge Bharat QR And QR Codes Generated By UPI
Source: Medianama

There are efforts to merge UPI and BharatQR, an inter-operable QR code network for payments which includes card networks Visa, MasterCard, RuPay and American Express. Read More
Google Starts Hyperlocal Services With Its Areo App In Mumbai And Bengaluru
Source: Medianama

The app features local restaurants, food delivery and home services. Users can pay for services and food deliveries using cards, net banking or pay cash on delivery of services. Read More
2017 Dot-com Shining: India's Rising Ecommerce Industry
Source: iamwire

According to CSO and IMF, with various positive factions thriving, including that of E-Retail, India has emerged as the fastest growing economy in the world. Read More
How to Generate Higher ROI with Digital Marketing
Source: iamwire

India has 100+ Cr active mobile phone connections in 2017 and 220 million users have a smartphone. The smartphone penetration rate stands at 30% today and is expected to shoot up. Read More
What's Packed In Government's BHIM-Aadhaar Payments App
Source: VCCircle - VCC Startups

Prime Minister Narendra Modi on Friday launched merchant interface app BHIM-Aadhaar, which links the Bharat Interface for Money mobile application with biometric platform Aadhaar. Read More
Myntra Acquihires Logistics Startup InLogg
Source: VCCircle - VCC Startups

Flipkart-owned fashion e-tailer Myntra has acquihired logistics startup InLogg, which is operated by InLogg Internet Pvt. Ltd, to help solve delivery inefficiencies in terms of cost and reach. Read More
Paytm Introduces Food Wallet, Aims At Hitting The Likes Of Sodexo
Source: YourStory

Recently, digital payments company Paytm announced the launch of Paytm Food Wallet, for companies to roll out instant, tax-free food allowances to employees.
Read More
1,50,000 Villages In India To Have Internet Connectivity: Are Rural Start-Ups Soon To Become A Reality?
Source: YourStory

At the unveiling of the annual budget this year, PM Narendra Modi's government announced the delivery of high-speed affordable internet to 150,000 villages in the country. Read More
Amazon Users Are Spending More Time Than Flipkart Users
Source: NextBigWhat

As of the week ending March 4, 2017, Flipkart accounts for 30.7% of monthly e-commerce users in India, followed by Amazon at 30.3%, and Snapdeal at 10.8%.
Read More
"Mobile Consumers In India Are Night Owls" And More Insights From Flurry Report
Source: NextBigWhat

In 2016, shopping apps continued to gain popularity, growing 31% globally and 12% in India, as per the findings of Flurry Analytics in its report entitled State of the App Nation in India. Read More