CCAvenue becomes the country's first payment gateway to partner with Ujjivan Small Finance Bank for its internet banking facility
9 November, 2017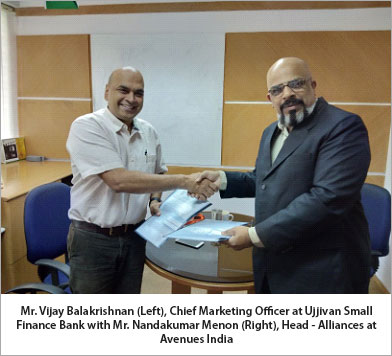 Continuing its streak of exemplary firsts, CCAvenue.com, India's leading payment services provider today signed a Direct Debit agreement with Ujjivan Bank, a small finance bank headquartered in Bengaluru, Karnataka. With this move, CCAvenue continues to expand its Direct Debit Engine, which is presently the largest in the country comprising 50+ banks. The new alliance will provide CCAvenue merchants with additional business opportunities by giving them access to the vast and growing customer base of Ujjivan Small Finance Bank.
Founded in February 2017, Ujjivan Small Finance Bank Limited is a wholly owned subsidiary of Ujjivan Financial Services Ltd., a leading microfinance institution. It primarily serves the rural Indian population, offering them a diverse portfolio of banking services including savings/current accounts, deposits, home loans, micro loans, small business loans and more. Since its launch, Ujjivan Small Finance Bank has successfully broadened its network to 100 branches spanning across 16 states. The bank is also in the process of leveraging the active 3.5 million customer base (of Ujjivan Financial Services) to scale up its banking services.
Through this partnership, Ujjivan Small Finance Bank's customer base will be able to avail real-time, online payment facility on numerous websites across several service categories including mobile recharge, online retail, hotel and flight bookings, amongst others. Moreover, the bank will have increased visibility on more than 1 lakh Indian eCommerce websites powered by CCAvenue.
Commenting on the addition,
Mr. Nandakumar Menon, Head of Alliances, Avenues India
said: "At CCAvenue, we endeavour to partner with every bank possible to ensure that our merchants have ample opportunities to reach out to customers across the length and breadth of the country. With the inclusion of Ujjivan Small Finance Bank in our network, we have further strengthened our partner ecosystem. This addition will assist CCAvenue merchants in expanding their existing customer base and augment their revenue stream substantially."
Being India's leading third-party payment aggregator, CCAvenue continually works towards broadening its payment network and making digital payments more popular and accessible. As the company rolls out more and more payment options this fiscal year, its merchants could harness them effectively to achieve higher business growth.
About Ujjivan Small Finance Bank

Headquartered in Bengaluru, Karnataka, Ujjivan Small Finance Bank Limited is a wholly owned subsidiary of Ujjivan Financial Services Ltd. The bank received the final license from the Reserve Bank of India to set up a Small Finance Bank in November 2016 and commenced operations from February 2017 with an experienced team of members ranging from ex-CEOs of leading nationalized banks and advisors to various financial organizations. Post its launch, Ujjivan Small Finance Bank has successfully established its presence across multiple Indian states. The bank strives to go deeper into the problems of the unserved rural population and utilize their full potential by providing them with full financial stability. Ujjivan Small Finance Bank believes in trusting the abilities, ambitions & dreams of customers and strives to work for their development, one step at a time. For more information, please visit www.ujjivansfb.in.
About CCAvenue
CCAvenue is a PCI DSS 3.2 compliant payments platform for ecommerce businesses in India. It is designed to help its 1 lakh+ merchants accept online payments through a spectrum of new-age payment options including 7 major Credit Cards, 98+ Debit Cards (All MasterCard /Visa /Maestro /RuPay Cards), Amex EzeClick, 53+ Net Banking, 16 Prepaid Instruments, UPI and up to 13 Multi Bank EMI options. Backed by a 15-year history of industry firsts, outstanding innovations and prestigious accolades, CCAvenue offers a multi-channel payment platform, along with a bunch of disruptive features such as CCAvenue Checkout, CCAvenue S.N.I.P., CCAvenue Store Front, CCAvenue Card Storage Vault (tokenization) and more.