CCAvenue realizes the cost incurred in the due course of customer acquisition. We would not want you to loose your hard earned customer-trust due to any internal mismanagement of data. Thereby adding to the bouquet of security features offered, CCAvenue now introduces "CCAvenue User Management" in your merchant panel.
WHY HAVE WE INTRODUCED THIS FOR YOU?
CCAvenue User management helps you manage/ protect your crucial customer data. Ineffective user and privilege management often lead your confidential information being compromised. Therefore, it is important that you understand how you can protect your transaction data in our CCAvenue M.A.R.S. through simple and effective user account management techniques.
HOW CAN YOU MANAGE INTERNALLY YOUR DATA INTERGRITY?
CCAvenue allows creation of multiple users with restricted rights for your CCAvenue M.A.R.S account. An Account Owner or Administrator has complete access to all the features of the Merchant Interface. He can create multiple subusers with unique logins, assign & manage their roles & privileges as per their department requirement & also modify their user's permissions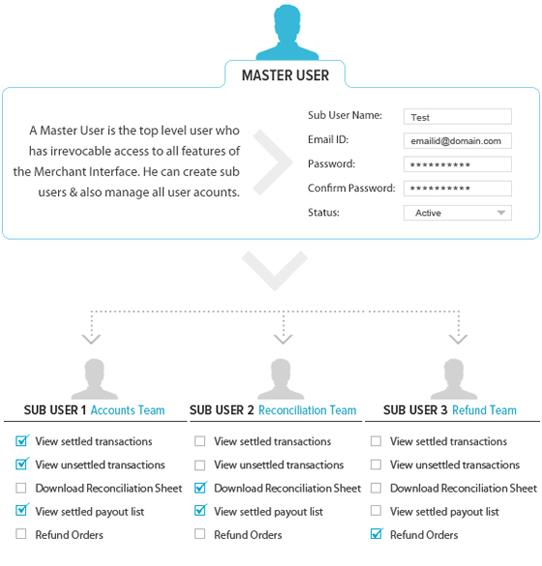 For better understanding and implementation of the same, our 24 x 7 technical experts would arrange prompt training sessions. Please E-mail on
service@ccavenue.com
or call at +91 22 6742 5555 or click on
Live Chat
to schedule a training