Having trouble viewing this email? View it in your browser
| | | |
| --- | --- | --- |
| | | August 2021 |
Delay in processing refunds is one of the biggest pain points in the Indian eCommerce space. Most online businesses desperately seek a resolution to this issue as it results in an unsatisfactory customer experience, which in turn leads to a huge drop in the number of repeat customers as well as a significant loss in terms of revenue opportunities. Fully aware of this drawback, our team has meticulously worked upon a cutting-edge solution, CCAvenue Instant Refunds that totally eliminates the waiting time for refunds!

We now offer your customers the fastest and most secure experience whenever they request a refund. Once you initiate a refund, your customer will receive the refund amount within minutes! This helps you avoid the hassles of unnecessary follow-ups so as to save your valuable time and efforts. As for your customer, he enjoys a pleasant shopping experience and is bound to transact with you again – and again, and again! CCAvenue Instant Refunds increases customer retention and helps you grow your business considerably.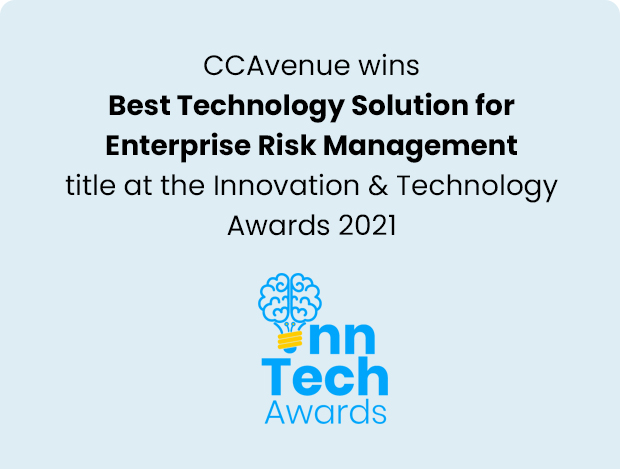 Champions are those who perform exceptionally and consistently against great odds. Despite the tough regulatory environment and dynamic nature of the industry, CCAvenue, Infibeam Avenues' leading digital payments platform, continues to overcome challenges as it marches ahead successfully in its business journey. In recognition of our excellence in the Fintech sector, CCAvenue has been awarded the 'Best Technology Solution for Enterprise Risk Management' accolade at the Innovation & Technology Awards 2021 (popularly known as the INN-TECH Awards), in a virtual ceremony held on 25th August 2021.

The INN-TECH Awards is a pioneering platform designed and developed to acknowledge and applaud the exemplary and innovative work done by professionals and enterprises across various fields and sectors. It is for the first time that diversity and excellence in the Technology and Innovation space across difference sectors was celebrated at such a comprehensive scale in India.



E-commerce has a key role to play in tackling India's greatest concern

Source: Firstpost.com

E-commerce is providing opportunities to a new generation of digital entrepreneurs, who have been forced to start their own businesses following job losses...
Read more

All you need to know about e-RUPI and its disruptive potential

Source: Livemint.com

Prime Minister Narendra Modi launched e-RUPI, a digital payment instrument, via video conferencing on 2 August. It is slated to make welfare payments easier and more efficient.
Read more

Growing non-cash payments a positive sign, but not without challenges

Source: Moneycontrol.com

The data from RBI's annual reports and monthly bulletins show the rising popularity of digital payments...
Read more

NPCI Ties Up With Turkish Fintech To Drive Contactless Payments In Indian Shops

Source: Inc42.com

This development is aimed at empowering customers to make seamless 'Tap and Go' payments using the merchant's NFC enabled smartphones...
Read more

Disclaimer: We do not claim ownership over the images / articles appearing in the Industry News section. They are used for information purposes only and in no way are meant to claim ownership over any of the above mentioned. All photos, videos, articles, etc. are copyrighted to their original owners.
E-mail: contact@ccavenue.com
Copyright © 2021 INFIBEAM AVENUES. All Rights Reserved.