Manage all your Business payouts easily and effectively with
CCAvenue B2Biz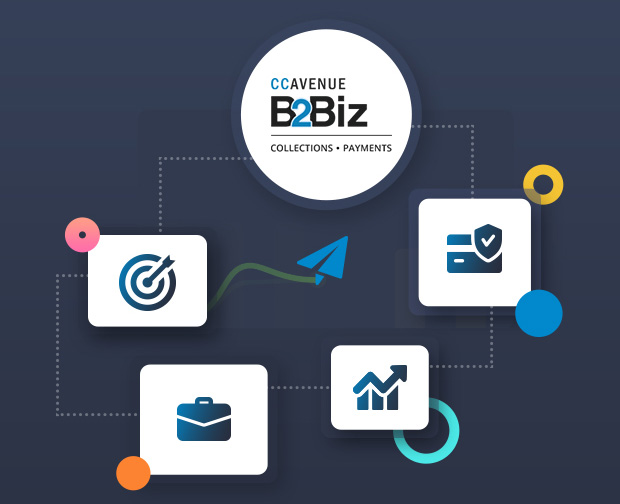 Over the past few years B2B payment systems have been evolving rapidly across the globe with greater emphasis being placed on speed, accuracy and efficiency. Many large corporates and medium-sized firms have started turning to experienced Fintech players like CCAvenue for
facilitating recurring as well as ad-hoc payouts to their vendors, contractors, suppliers, employees and business partners. Incorporating the latest payment innovations and designed to handle various payment complexities, CCAvenue B2Biz, our next-gen automated B2B payment platform streamlines and automates business payment and collection processes, optimizes cash flow, improves efficiency and helps you save on costs.



Its intuitive reports help you keep track of the status of your pay-ins (receivables) and payouts from a single, unified interface in real-time 24x7. Our B2B clientele includes large MNCs, FMCG giants, FoodTech companies and a reputed mineral water supplier. FoodTech companies, for instance, find CCAvenue B2Biz extremely beneficial for making ad-hoc and recurring payments to their food suppliers and bikers on account of salaries, commissions, incentives and other dues across multiple payment modes.



CCAvenue awarded Best Digital Payment Facilitator Accolade at the 2nd Annual Digital Payments Summit 2020

In appreciation of its exemplary performance through the years in the Indian FinTech space, CCAvenue has been declared the 'Best Digital Payment Facilitator' at the 2nd Annual Digital Payments Virtual Summit

that was conducted virtually on September 4, 2020. These awards had been introduced to recognize the outstanding achievements in the domain of digital payments across various categories. The digital payments summit was staged with the primary objectives of establishing a network of professionals for knowledge interchange through a dedicated platform for comprehensive business discussion, while discovering new ideas and strategies for the digital payments space in the country.



CCAvenue collaborates with Fincare Bank for its Net Banking facility


In a major initiative aimed at augmenting the earning potential of its mammoth merchant base, Infibeam Avenues' digital payments facilitator CCAvenue has announced that it would be offering Fincare Bank's direct debit facility in its large payment stack within the next couple of months. Fincare Small Finance Bank is now a scheduled bank that offers a suite of smart banking products that provides Institutional Finance and Micro Loans as well as a comprehensive range of core banking products. The account holders of the bank will soon be able to avail its net banking facility to make secure and convenient payments on innumerable eCommerce websites powered by CCAvenue payment gateway. CCAvenue already has the largest direct debit engine in South Asia with the net banking options of 58+ leading banks. This move will further strengthen CCAvenue's payments offering as well as widen the market reach of its 1.4 lakh merchants.



INDUSTRY NEWS

Retail cheque payments down to a trickle in FY20 to 2.96 per cent: RBI data

Source: newindianexpress.com

The aggressive push to a digital payments and settlement system has paid rich dividend...
Read more
New debit card, credit card rules kick in from October 1

Source: zeenews.india.com

The Reserve Bank of India has issued several new guidelines that will come into effect from October 1, 2020. Among these many guidelines, one pertains to using debit/credit cards.
Read more
Innovations in digital payments are growing: Manoj Adlakha

Source: livemint.com

Experts have often said that the covid-19 pandemic could be a defining moment for India's burgeoning fintech...
Read more
Reverse-migration pushes e-commerce festive sales to Tier 2, 3 cities

Source: livemint.com

Walmart-backed Flipkart and Amazon India have both seen sales more than double in the first 48 hours compared to the 2019 festive sale edition.
Read more
Disclaimer: We do not claim ownership over the images / articles appearing in the Industry News section. They are used for information purposes only and in no way are meant to claim ownership over any of the above mentioned. All photos, videos, articles, etc. are copyrighted to their original owners.