A Golden Hat-trick: Avenues Wins 'Best eCommerce Payment Innovation' Accolade Yet Again at the eRetail Awards for CCAvenue DirectLink
16 April, 2018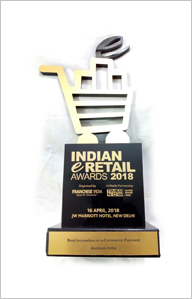 Champions are those who thrive on challenges without losing focus of the big picture. Avenues, India's leading eCommerce solutions provider, has been doing just that ever since its inception in 2001. The eCommerce and digital payments space has undergone tremendous changes in the past few decades, but Avenues has adapted its business model suitably by offering innovative solutions that benefit both merchants and their end customers. In recognition of its substantial contribution towards the evolution of the Indian digital payments space, Avenues has received the 'Best eCommerce Payment Innovation' accolade for the third consecutive year at the 7th Annual Indian Retail & e-Retail Awards 2018.
The prestigious award ceremony organized by Franchisee India was held this year at the JW Marriott Hotel in New Delhi on 16th April 2018. The Payments Award subcategory had just four awards that included the prize for 'Best eCommerce Payment Innovation'. This annual show is a tribute to entities which have tamed all hurdles to propel growth while integrating increased profitability, omni-channel business strategies and enhanced user experiences through marketing excellence and business dynamism.
Avenues has received this award on behalf of CCAvenue, its flagship brand and a leader in the Indian digital payments space. It has received this award for the 'CCAvenue DirectLink' feature, a major innovation that aims to reduce the number of hops in the transaction process so as to improve success rates. This fast and secure integration gives online businesses full control to build their own custom checkout form, and make a server-to-server connection with CCAvenue to fetch the payload for the payment request process with banks.
Commenting on the accomplishment,
Mr. Vishwas Patel, Chief Executive Officer at Avenues India
said: "We sincerely thank the jury and organizers of the eRetail awards ceremony for this recognition. The award bears testimony to CCAvenue's pioneering contribution in the field of eCommerce and digital payments. We have received this award specifically for CCAvenue DirectLink which has been a game changing feature for many of our merchant partners. CCAvenue DirectLink enhances transaction success rates by reducing the number of hops in the transaction process and enables businesses to offer payment services directly through their websites without redirecting users to CCAvenue."
CCAvenue.com has won a plethora of awards over the years including the 'Best Digital Payment Facilitator' twice in a row from IAMAI, 'Digital Innovations in the SMB Sector' from Cisco and CNBC-TV18, and 'Best Innovation in Payments & Transfers' at the MoneyTech Awards among others. Being a leader in the online payments space, this recognition will further inspire CCAvenue in developing advanced solutions backed by state-of the-art technology to help accelerate the growth of eCommerce businesses in India.
About CCAvenue
CCAvenue is a PCI DSS 3.2 compliant payments platform for eCommerce businesses in India. It is designed to help its 1 lakh+ merchants accept online payments through a spectrum of new-age payment options including 7 major Credit Cards, 98+ Debit Cards (All MasterCard /Visa /Maestro /RuPay Cards), Amex EzeClick, 53+ Net Banking, 16 Prepaid Instruments, UPI and up to 13 Multi Bank EMI options. Backed by a 16-year history of industry firsts, outstanding innovations and prestigious accolades, CCAvenue offers a multi-channel payment platform, along with a bunch of disruptive features such as CCAvenue Checkout, CCAvenue S.N.I.P., CCAvenue Store Front, CCAvenue Card Storage Vault (tokenization) and more.