Another Moment of Pride for Infibeam Avenues, Ms. Smita Shetkar Wins the Chief Risk Officer Accolade at the Treasury, Risk & Compliance Excellence Awards
11th April, 2019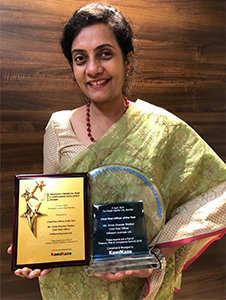 CCAvenue, the flagship brand of Infibeam Avenues, has a robust risk management policy driven by Ms. Smita Shetkar, the Chief Risk Officer, who has ensured the deployment of best-in-class risk mitigation business processes that give it a competitive edge in a digital payments industry fraught with risks. In acknowledgement of the achievement, Ms. Smita Shetkar, was declared winner of the CRO Accolade in the Treasury, Risk & Compliance Excellence Awards function on 11th April 2019.
Smita who is known for her impressive communication skills with the company stakeholders, has been applying strategic efforts to minimize the company's risk exposure. Consequently, the CRO has considerable experience interacting closely with executive teams, conducting frequent internal reviews and reporting to the management on key issues throughout the business journey.
Smita is also responsible for ensuring that the work processes related to risk management and recovery is in place and running smoothly. Her past legal experience has proven invaluable in her achievement of the highest standards in risk mitigation and recovery management. Her key responsibilities include continuous improvement of the work processes which involve managing risks, and implementing path breaking risk management tools which will help reduce the company risk profile even further.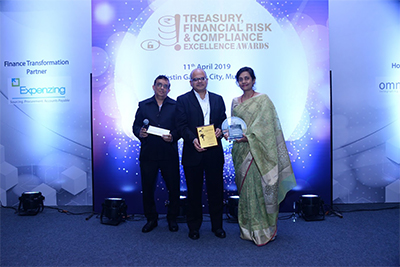 Right from its inception in 2001, the CCAvenue brand has stood for quality, security and reliability. With a combination of best practices, leading technology and human intelligence, the CCAvenue Risk Mitigation Solution provides an unprecedented level of risk detection for the security of online transactions. The solution helps assess each transaction against a negative database collected over nearly two decades, which is verified by its dedicated risk management team over 150 variables like high risk global IP address verification, BIN number mapping, keystroke speed recording, etc.
"Infibeam Avenues has an unwavering commitment to retain the highest levels of information security, confidentiality, integrity and data accessibility" said Smita Shetkar, acknowledging the recognition from the esteemed members of the jury. She further added: "This accolade will inspire CCAvenue to develop more powerful risk mitigation strategies as the payment gateway continues to evolve in terms of growth and comprehensiveness of its product offerings."
The Treasury, Risk & Compliance Excellence Awards felicitates leaders in all aspects of treasury, risk & compliance management. These awards recognize the achievements of not only senior leadership in the entire finance industry and their teams, but also organizations which provide them with the services, support, and innovations that enable their success.