Avenues CEO Vishwas Patel awarded the prestigious Asia Pacific Information Security Leadership Achievements Award
9th July , 2007
On 9 July 2007, at the ISLA Gala Dinner held at Sheraton Grand Sukhumvit in Bangkok, Thailand, Mr. Vishwas Patel, CEO and Owner of the Avenues Group was awarded with the prestigious Asia Pacific Information Security Leadership Achievements Award in the Senior Non-IT Security Professional category.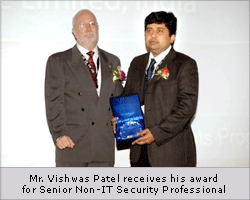 Mr. Vishwas Patel receives his award for Senior Non-IT Security ProfessionalMr. Vishwas Patel was awarded with the prestigious Asia Pacific Information Security Leadership Achievements Award for his leadership and vision. As the Founder-CEO of Avenues India Private Limited, he guided the company to become South Asia's No. 1 eCommerce service provider within two years of its launch. CCAvenue®, the company's first initiative, launched in September 2001 today provides payment gateway services to more than 75% of India's Web Merchants.
(ISC)2® ("ISC-squared") is the non-profit global leader in educating and certifying information security professionals throughout their careers. Through ISLA, (ISC)2 aims to publicly recognizing the ongoing commitment by information security leaders throughout Asia-Pacific to build a highly qualified and ethical workforce. It also aims to recognize the achievements of outstanding IT security professionals who have significantly contributed to the enhancement of the workforce by demonstrating a leadership role in an IT security workforce improvement initiative, program or project.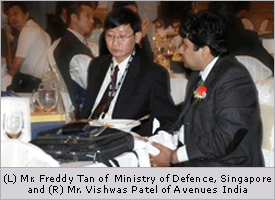 On receiving this honor, our esteemed CEO Mr. Vishwas Patel said, "At Avenues, we take information security very seriously. We have always been at the forefront in adopting the best information security protocols. Be it deploying the highest security firewalls, advanced intrusion prevention systems, secure coding standards, applying innovative security protocols on our systems or advanced fraud detection techniques. By complying with the Payment Card Industry Data Security Standards Version 1.1, Avenues continues it track record of being the first and the earliest adopters of new security technologies. This Award affirms our leadership status."
About (ISC)&sup2
The International Information Systems Security Certification Consortium, Inc. [(ISC)2®] is the internationally recognized Gold Standard for certifying information security professionals. Founded in 1989, (ISC)&sup2 has certified over 50,000 information security professionals in 129 countries. Based in Palm Harbor, Florida, USA, with offices in Vienna, Virginia, USA, London, Hong Kong and Tokyo, (ISC)&sup2 issues the Certified Information Systems Security Professional (CISSP) and related concentrations, Certification and Accreditation Professional (CAPCM), and Systems Security Certified Practitioner (SSCP) credentials to those meeting necessary competency requirements. The CISSP, CISSP-ISSEP, CISSP-ISSAP and SSCP are among the first information technology credentials to meet the stringent requirements of ANSI/ISO/IEC Standard 17024, a global benchmark for assessing and certifying personnel. (ISC)&sup2 also offers a continuing professional education program, portfolio of education products and services based upon (ISC)&sup2 's CBK®, a taxonomy of information security topics and is responsible for the annual (ISC)&sup2 Global Information Security Workforce Study. More information is available at
www.isc2.org
About Avenues
Avenues is South Asia's largest payment gateway solution company powering thousands of eMerchants with eCommerce solutions and real time, multi-currency, multiple payment options online payment processing services. All solutions are powered by proprietary technology that integrates industry vertical specific eCommerce tools, transaction processing, advance shopping cart, auction payment collection facility, fraud control, financial reporting and order tracking. All Avenues' solutions are empowered with a complete PG solution that has the unique ability to offer the full spectrum of Internet payment options, including:
| | |
| --- | --- |
| | All types of Credit Card processing through Multiple Banks and Card Associations |
| | Debit Card processing |
| | Direct Debit to bank accounts of over 15 Indian Banks, 22 Chinese Banks, 6 Canadian Banks and 3 Singapore Banks |
| | Mobile Payment Solutions via PayMate® |
| | Cash Card Processing of ITZ Cash® |
For more information, visit:
www.CCAvenue.com
(for general eCommerce Processing),
www.ResAvenue.com
, (for Online Hotel Reservations through the Hotel website),
www.EventAvenue.com
(for Online Event Management solution)