CCAvenue Achieves ISO/IEC 27001:2013 Certification for Its Best-In-Class Information Security Management System
7th April, 2016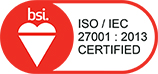 Avenues, India's leading eCommerce solutions provider and the parent company of CCAvenue.com, today announced that it has successfully completed the ISO 27001 certification from the British Standard Institution (BSI). The ISO/IEC 27001:2013 certification is a globally recognized standard for certifying information security programs and processes within organizations. This recognition is a testament to Avenues' unwavering commitment to retaining the highest levels of information security, confidentiality, integrity and availability of all data.
This ISO 27001 certification bears testimony to Avenues' adherence with globally recognized standards by providing an enhanced security layer to merchants and their customers. Avenues has invested substantially on research, hardware and other resources to streamline processes, deploy proprietary and genuine third-party software, and optimize business efficiency by constantly monitoring various quality parameters and resolving issues, that may arise. As a leader in the digital payments space, Avenues has always endeavored to stay ahead of the curve through its innovations and processes. Right from its inception in 2001, the brand has stood for quality, security and reliability. This status has been further enhanced with the numerous awards and certifications it has received through the years. The ISO certification will further help the company in consolidating the security controls throughout all their business processes. It will boost the confidence of the merchants in CCAvenue even more and assure them that their data is secure by preventing information security risks. Moreover, ISO certification will help Avenues in being compliant with relevant laws, regulations and business requirements, thereby consolidating its position as the preferred partner for eCommerce businesses in India.
Speaking about this achievement, Mr. Vishwas Patel, Chief Executive Officer, Avenues Group commented "Information security has always been of paramount importance at Avenues. We are committed to providing our merchants and their customers with a truly safe online transacting environment. Since its inception, CCAvenue has always endeavored to streamline its processes and maintain data integrity by implementing proprietary and genuine software. Achieving the ISO certification not only validates our continued efforts towards ensuring data safety and complying with the highest level of security standards, but also reinforces the trust our merchants have placed on us."
About ISO/IEC 27001:2013
ISO/IEC 27001:2013 is an information security standard that was jointly published by the International Organization for Standardization (ISO) and the International Electrotechnical Commission (IEC). It provides organizations with a globally recognized, independent verification that the company is able to securely manage information security, retaining confidentiality, integrity and availability of all the data. Organizations which meet the standard are certified as compliant by an accredited certification body on successful completion of a formal compliance audit. The ISO/IEC 27001:2013 is the most popular information security standard worldwide and can be implemented in any kind of organization - profit or non-profit, private or state-owned, small or large and the like. To know more, visit www.iso.org.
About Avenues
With its headquarters in Mumbai, Avenues India has developed several cutting-edge solutions that are used by thousands of eMerchants spanning across South Asia. Its flagship brand CCAvenue offers real-time, multi-currency online payment processing services for businesses in the major industry verticals. It is the only complete PG solution in the region that offers the full spectrum of Internet payment options including the 6 major Credit Cards, 98+ Debit Cards (All MasterCard /Visa /Maestro /RuPay Cards), Amex EzeClick, 53+ Net Banking, 15 Prepaid Instruments and up to 9 Multi Bank EMI options. For more information, visit www.ccavenue.com.