CCAvenue Becomes the First Payment Aggregator to offer AU Small Finance Bank's Net Banking Facility
24th December, 2018
Close on the heels of being the first third party payment gateway to include the direct debit facilities of Suryodaya Small Finance bank and Ujjivan Small Finance bank, CCAvenue, the pioneer in the digital payments industry, is now also the first payment aggregator to go live with AU Small Finance bank's internet banking option. This move will enable 1 lakh+ merchants registered with CCAvenue to offer AU Small Finance bank's direct debit facility on their websites. With more than 56 net banking options, CCAvenue, a flagship brand of Infibeam Avenues Ltd, has the largest direct debit engine in South Asia.
AU Small Finance bank started its success story as an NBFC (Non Banking Financial Company) with the objective of serving customers in the rural and semi-urban areas. On receiving the approval from Reserve Bank of India (RBI), the bank became one of the first few entities in India to transition from an NBFC to a small finance bank. The bank aims to continue focusing on under-banked geographies by offering credit to micro-enterprises, agriculture and allied activities, as well as introducing banking services including acceptance of deposits to its portfolio. It strives to leverage its existing customer base to raise deposits and offer transaction banking.
Speaking on this development, Mr. Vishwas Patel, Director, Infibeam Avenues Ltd, commented: "The inclusion of the direct debit facility of AU Small Finance bank on our payment platform will enable our web merchants to reach out to the bank's rapidly growing customer base and enhance their business potential considerably. This integration will further consolidate our partner ecosystem and ensure that merchants do not miss out on any sales opportunities coming their way due to unavailability of payment options."
The addition of AU Small Finance bank's net banking facility will simplify online payments for the bank's customers while they transact on innumerable eCommerce sites powered by CCAvenue. As the brand continues to introduce more and more such innovative payment options in the coming months, it will only help online businesses to boost their sales and augment their revenue stream substantially.
About AU Small Finance Bank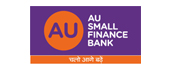 AU Small Finance Bank is an Indian commercial bank that was initially established as vehicle finance company Au Financiers (India) Ltd in 1996 and converted to a small finance bank in April 2017. It is a customer centric and service-driven financial institution, offering the best and trusted financial solutions to the entrepreneurial aspirations of the unreached and unbanked masses in the country. In September 2015, Au Financiers received an 'in principle' approval from the Reserve Bank of India (RBI) to operate as a Small Finance Bank, which allowed it to undertake basic banking activities of accepting deposits and lending. Au Financiers has close to 20 years of experience in serving the customer segments belonging to rural and semi-urban areas and majorly to under-banked geographies. After commencing its banking operations in 2017, the company continues to offer support to the un-reached geographies through a low-cost, technology-driven operating model with strong risk architecture by supplying credit to small business units; small and marginal farmers; micro and small industries; and other unorganized sector entities. To know more, visit
www.aubank.in
About CCAvenue

CCAvenue, the flagship brand of Infibeam Avenues, is a PCI DSS 3.2 compliant payments platform for eCommerce businesses in India. It has been designed to help its 1 lakh+ merchants accept online payments through a spectrum of new-age payment options including 6 major Credit Cards, 98+ Debit Cards (All MasterCard /Visa /Maestro /RuPay Cards), Amex EzeClick, 56+ Net Banking, Mobile Wallets, UPI and up to 13 Multi Bank EMI options. Backed by a 17-year history of industry firsts, outstanding innovations and prestigious accolades, CCAvenue offers a multi-channel payment platform, along with a bunch of disruptive features such as Invoices, Subscriptions, CCAvenue B2Biz, CCAvenue Checkout, CCAvenue S.N.I.P., CCAvenue Store Front, CCAvenue Card Storage Vault (tokenization) and more.