CCAvenue Honored with 'Digital Payment Facilitator-Category Leader' Accolade at Mastercard's REACH Acceptance Awards
18th April, 2019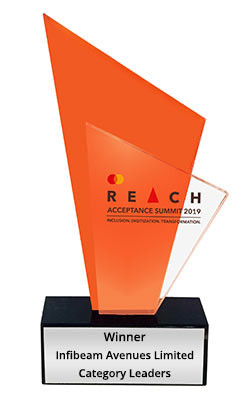 Adding to its string of accolades, CCAvenue has now been declared a winner at another prestigious award ceremony for its outstanding contribution towards payment acceptance in the Indian e-commerce space. The payment aggregator received the 'Digital Payment Facilitator - Category Leader' Award at the Mastercard's REACH Acceptance Summit 2019. Mr. Pankaj Dedhia, Chief Business Officer, accepted this award on behalf of Infibeam Avenues Ltd., the parent entity of CCAvenue.
The award function was held at the Trident hotel in Mumbai on 18th April 2019. This ceremony was a part of the Mastercard Acceptance Summit - REACH 2019, which invited participation from the top banks, payment facilitators, fintech companies and key merchants from India and across the world. The summit focused on enhancing payment acceptance in the region and was attended by the who's who of the banking and the digital payments world. Together with its leading industry partners and peers, Mastercard pledged to expand the reach of digital payment acceptance in India and make it grow with the inclusion of 10 million merchants by 2020.
Mastercard has played a vital role in providing technology, infrastructure and expertise to drive safe and secure electronic payments in India. It has actively contributed to the Indian economy for over 36 years and has now also reinforced its commitment to Digital India. Rigorous efforts by Mastercard in this direction have therefore led to increased consumer choice, convenience and security at lower costs to merchants.
CCAvenue has been awarded with several accolades over the years in recognition of its pioneering and leadership role in providing state-of-the-art digital payment solutions to Indian e-commerce businesses. The company continues to develop innovative solutions, enhance user experience and offer a wide range of meticulously designed business enhancement tools that provide unparalleled product differentiation to its merchant partners.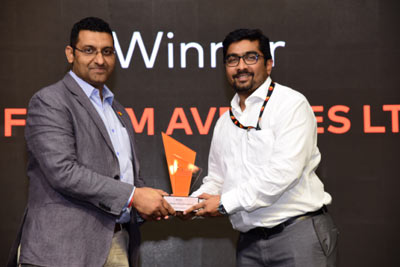 Elaborating on the accomplishment, Mr. Vishwas Patel, Director at Infibeam Avenues Ltd. and Founder of CCAvenue said: "We are delighted to accept this award on such a prestigious platform. For nearly two decades Mastercard and CCAvenue have jointly worked on catering to Indian online merchants by giving their customers a simple, speedy and secure payment experience, across devices and channels."
Mr. Vikas Saraogi, Vice President, Acceptance, Market Development, South Asia, Mastercard, commented: "Merchants are a critical element of India's digital economy. In Mastercard's vision of reaching 10 million merchants by 2020, partnerships with stakeholders in the digital payments ecosystem play a vital role. We are delighted to acknowledge CCAvenue's contributions to help make this vision a reality and congratulate them for winning the award for 'Digital Payment Facilitator - Category Leader'. We look forward to strengthening this partnership in the long run."
Through a winning combination of technological innovation and strategic partnerships, CCAvenue has been able to maintain its position as a leader in the Indian digital payment space. As CCAvenue continues to leverage cutting-edge payment technologies that enhance customer choice and optimize the consumer experience, Indian eCommerce businesses can look forward to making some great progress ahead.
About Mastercard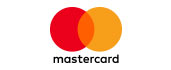 Mastercard (NYSE: MA), www.mastercard.com, is a technology company in the global payments industry. Their global payments processing network connects consumers, financial institutions, merchants, governments and businesses in more than 210 countries and territories. Mastercard products and solutions make everyday commerce activities - such as shopping, traveling, running a business and managing finances - easier, more secure and more efficient for everyone. Follow Mastercard on Twitter @mastercardindia, join the discussion on the Beyond the Transaction Blog and subscribe for the latest news on the Engagement Bureau.
About CCAvenue

CCAvenue, the flagship brand of Infibeam Avenues, is a PCI DSS 3.2.1 compliant payments platform for eCommerce businesses in India. It has been designed to help its 1 lakh+ merchants accept online payments through a spectrum of new-age payment options including 6 major Credit Cards, 98+ Debit Cards (All MasterCard /Visa /Maestro /RuPay Cards), Amex EzeClick, 58+ Net Banking, Mobile Wallets, UPI and up to 14 Multi Bank EMI options. Backed by an 18-year history of industry firsts, outstanding innovations and prestigious accolades, CCAvenue offers a multi-channel payment platform, along with a suite of disruptive features such as Invoices, Subscriptions, CCAvenue B2Biz, CCAvenue Checkout, CCAvenue S.N.I.P., CCAvenue Store Front, CCAvenue Card Storage Vault (tokenization) and more.