CCAvenue Inks Partnership with InstaCred Cardless EMI for Seamless Installment Payments
11th October, 2019
In response to the growing demand for cardless EMI in the Indian e-commerce space, CCAvenue has recently signed a partnership deal with Flexmoney for InstaCred Cardless EMI, a platform that allows online shoppers to purchase a wide range of products in easy instalments without a credit card. By availing InstaCred, customers will be able to avail digital EMI without the hassle of any documentation. This Cardless EMI facility will make it easier for the customers to 'Buy Now and Pay Later' without making any initial down payments.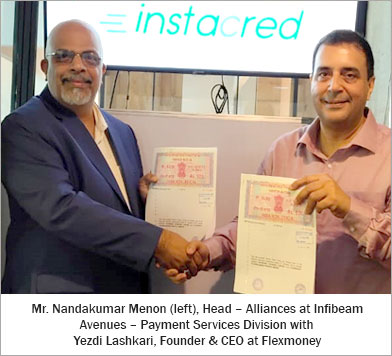 CCAvenue has already signed up for Cardless EMI payment options with ZestMoney thereby making this the second tie-up with a similar service provider. CCAvenue is currently the provider of maximum EMI options in India, offering the EMI facilities of 14 leading banks. The new Cardless EMI payment solution will complement the existing card based EMI payment feature further enabling eCommerce websites powered by CCAvenue to generate surplus revenue and enhance their business potential considerably.
InstaCred Cardless EMI allows an online buyer to avail credit while purchasing high value products and services as they pay in equated monthly instalments (EMI) without having to make a down payment. Besides being an advanced solution for digital credit and lending, the Cardless EMI payment is increasingly affordable and convenient for customers. When compared to cards and Net Banking, a Cardless EMI offers a superior transacting experience to the customer. Together with increasing the Average Order Value (AOV), Cardless EMI payments also boost the frequency of transactions.
"Cardless EMI is an innovative payment method that improves online payment flexibility while enhancing the user experience. Considering the huge benefits of this new payment mode to Indian eCommerce businesses and their customers, CCAvenue has formed a strategic alliance with Flexmoney for its InstaCred cardless EMI" stated Mr. Vishwas Patel, Founder of CCAvenue and Executive Director of Infibeam Avenues. He further added that CCAvenue already provides the EMI facilities offered by a majority of leading banks to ensure maximum traction for the businesses of its registered web merchants.
The Founder at Flexmoney Technologies Pvt Ltd., Mr. Yezdi Lashkari commented "Flexmoney is proud to announce that it is partnering with CCAvenue - one of the pioneers of online payments in India. Flexmoney, through its brand InstaCred, and CCAvenue will together enable millions of customers to make instant EMI purchases using the InstaCred Cardless EMI platform, across a massive network of merchants."
About Flexmoney
Flexmoney is a digital service provider that enables its lending partners to digitally offer credit to consumers by leveraging the India Stack (Aadhaar, UPI and BBPS) and its digital credit platform. The organization aims to democratize credit via the smartphone for ecommerce merchants, consumers and lenders. Flexmoney's digital credit platform enables "credit as a service" for multiple ecommerce stakeholders such as merchants, payment gateways and mobile wallets via a simple SDK integration. One of the prominent services offered by Flexmoney is InstaCred which enables online customers to avail instant digital EMI without the hassle of any documentation or down payment. To learn more about Flexmoney visit www.flexmoney.in
About CCAvenue

CCAvenue, the flagship brand of Infibeam Avenues, is a PCI DSS 3.2.1 compliant payments platform for eCommerce businesses in India. It has been designed to help its 1 lakh+ merchants accept online payments through a spectrum of new-age payment options including 6 major Credit Cards, 98+ Debit Cards (All MasterCard /Visa /Maestro /RuPay Cards), Amex EzeClick, 59+ Net Banking, Mobile Wallets, UPI and up to 14 Multi Bank EMI options. Backed by a 17-year history of industry firsts, outstanding innovations and prestigious accolades, CCAvenue offers a multi-channel payment platform, along with a suite of disruptive features such as Invoices, Subscriptions, CCAvenue B2Biz, CCAvenue Checkout, CCAvenue S.N.I.P., CCAvenue Store Front, CCAvenue Card Storage Vault (tokenization) and more.