CCAvenue Strengthens Its Payment Network With The Inclusion Of Equitas Small Finance Bank's Net Banking Facility
4th July, 2019
With the objective of further augmenting the revenue stream of Indian web businesses, CCAvenue.com has now included the net banking mode of Equitas Small Finance Bank (SFB) in its comprehensive platform. With this addition, CCAvenue now has a huge list of 59+ banking partners in its direct debit engine which is currently the largest in South Asia.
This fresh initiative throws open a window of opportunity for 1,20,000+ Indian websites powered by CCAvenue as they can now reach out to the mammoth, rapidly growing customer base of Equitas SFB. When shopping on these eCommerce websites, the bank's customers will now be able to make secure and convenient payments for their purchases through an instant debit in their bank account.
Equitas Small Finance Bank is a Small Finance Bank (SFB), licensed by Reserve Bank of India under Section 22 of the Banking Regulation Act, 1949 to operate as a Small Finance Bank. The Bank initially started its business on September 5, 2016. It then became the first Private Sector Bank from Tamil Nadu to commence operations post India's Independence. The bank now has a pan India network focused on providing financing solutions for individuals and micro and small enterprises (MSEs) which are as yet underserved by formal financing channels while providing a vast banking and digital platform for everyone. As a small finance bank, Equitas is changing the way banking is imagined, delivered and experienced - with 'Trust' being the key driver.
Commenting on this move, Mr. Vishwas Patel, Founder of CCAvenue and Executive Director of Infibeam Avenues, stated: "CCAvenue has expanded our partnership ecosystem exponentially in the past few years, as we provide our merchant partners with quick and easy access to the latest payment technologies as well as our comprehensive payment portfolio. With the inclusion of Equitas Small Finance Bank's net banking facility on our payment platform, our merchants can now maximise their earnings by tapping into this whole new customer segment."
As a multi-channel digital payment platform, CCAvenue plays a key role in the success stories of thousands of ecommerce businesses in India. Through constant innovation and with the introduction of numerous digital payment options, CCAvenue helps Indian web businesses achieve significantly higher sales and experience considerable business growth.
About Equitas Small Finance Bank Limited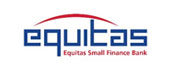 Headquartered in Chennai, India, Equitas Small Finance Bank Limited is a SFB (Small Finance Bank) that commenced its business in 2016 and became the first Private Sector Bank from Tamil Nadu to start operations post India's independence. Equitas SFB is a New Age Bank that focusses on providing the children, youth, families and entrepreneurs across India with fun banking ways. Low-income households who do not have access to banks are mainly served by Equitas SFB. The bank has also been recognized and appreciated for its voluntary compliance to highest levels of corporate governance. In recognition of its excellence in adopting the highest standards of corporate governance, Equitas was recognized as one of the five best governed companies that IPO'ed between 2015 and 2017 and was awarded the Corporate Governance Award powered by IiAS, IFC BSE.
About CCAvenue

CCAvenue, the flagship brand of Infibeam Avenues, is a PCI DSS 3.2.1 compliant payments platform for eCommerce businesses in India. It has been designed to help its 1 lakh+ merchants accept online payments through a spectrum of new-age payment options including 6 major Credit Cards, 98+ Debit Cards (All MasterCard /Visa /Maestro /RuPay Cards), Amex EzeClick, 59+ Net Banking, Mobile Wallets, UPI and up to 14 Multi Bank EMI options. Backed by a 17-year history of industry firsts, outstanding innovations and prestigious accolades, CCAvenue offers a multi-channel payment platform, along with a suite of disruptive features such as Invoices, Subscriptions, CCAvenue B2Biz, CCAvenue Checkout, CCAvenue S.N.I.P., CCAvenue Store Front, CCAvenue Card Storage Vault (tokenization) and more.