CCAvenue awarded the 'Best Digital Payment Processor' at IAMAI's India Digital Summit 2020
6th February, 2020
In recognition of its outstanding contribution in the Indian digital payments ecospace, Infibeam Avenues' payment platform CCAvenue.com won the 'Best Digital Payment Processor' award at the India Digital Summit 2020 presented by IAMAI. Having gained competitive advantage in the industry for its effective use of cutting-edge payment technologies, CCAvenue continues its award winning streak in 2020. Mr. Pranjal Pandey and Ms. Neeta Kapoor, the regional managers (Marketing), accepted the award on behalf of the company at the ceremony organized by IAMAI in New Delhi on February 6, 2020.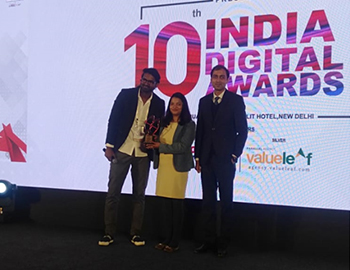 Since its inception in 2006, India Digital Summit has been one of the most prominent digital summits in the country. The 14th year of the summit was considered to be a perfect platform for discussions on intriguing topics that include - policies, advertising, digital commerce, start-ups ecosystem, emerging tech, e-sports and other digital trends. The India Digital Awards is an integral part of this summit. It honors top performers under the categories of Digital Advertising, Digital Content, Social Media, Mobile & App, Payment & Fintech, Technology, Digital Social & Economic Empowerment, and Special Awards.
CCAvenue, the flagship brand of Infibeam Avenues, incorporates the latest payment technologies to offer payment gateway services with advanced features that redefine user experience, improve transaction success rates and increase the earning potential of Indian eCommerce websites. CCAvenue has pushed far beyond any known boundaries of PG software engineering in India to upgrade its payment processing platform for the benefit of its merchant partners. All its software solutions have been developed in-house by a dedicated team of experts, with complete ownership of IPR.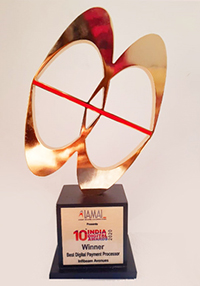 Having successfully catered to the needs of Indian websites, CCAvenue is now taking its rich payment expertise overseas at a time when global players are entering the Indian market. The payments platform has established its footprints in the Middle East through rapid growth of business operations in the U.A.E and the launch of its payment gateway services in the Kingdom of Saudi Arabia.
Commenting on the win, Mr. Vishwas Patel, Executive Director at Infibeam Avenues Limited and Founder of CCAvenue, stated: "We are excited to win the 'Best Digital Payment Processor' accolade at the prestigious India Digital Awards. Through a winning combination of cutting-edge technology and strategic partnerships, CCAvenue has been able to stay ahead of the curve in the highly competitive digital payments space. This recognition will further motivate us to provide 1.2 lakh+ Indian web merchants with advanced products and services backed by the latest payment innovations."
About CCAvenue

CCAvenue, the flagship brand of Infibeam Avenues Limited, is a PCI DSS 3.2.1 compliant payments platform for eCommerce businesses in India. It has been designed to help its 1.2 lakh+ merchants to accept online payments through a spectrum of new-age payment options including 6 major Credit Cards, 98+ Debit Cards (All MasterCard /Visa /Maestro /RuPay Cards), Amex EzeClick, 58+ Net Banking, Mobile Wallets, UPI and up to 15 Multi Bank EMI options. Backed by an 19-year history of industry firsts, outstanding innovations and prestigious accolades, CCAvenue offers a multi-channel payment platform, along with a suite of disruptive features such as Invoices, Subscriptions, CCAvenue B2Biz, CCAvenue Checkout, CCAvenue S.N.I.P., CCAvenue Store Front, CCAvenue Card Storage Vault (tokenization) and more.