CCAvenue bags 'Best Mobile Payment Product' and 'Most Innovative Mobile App' accolades at the Digital Dragons Awards 2022
14th October, 2022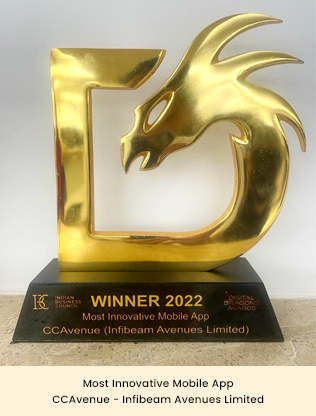 Setting yet another example of excellence achieved amidst challenges, Infibeam Avenues' flagship brand CCAvenue won the prestigious titles of 'Best Mobile Payment Product' and 'Most Innovative Mobile App' at the Digital Dragons Awards and Summit 2022, for its Digital Excellence in Finance and outstanding contribution in the development of innovative products and solutions. The esteemed recognition was awarded to Infibeam Avenues at a ceremony organized by the Indian Business Council (IBC) at VITS International, Mumbai, on 14th October 2022. The distribution of Digital Dragons Awards was intended at the recognition of leading professionals, innovative products and solutions, and distinguished entities in the digital industry.
A premier program by the Indian Business Council (IBC), the Digital Dragons Awards primarily focusses at acknowledging leading industry professionals, innovative products and solutions, exemplary campaigns and case studies, and outstanding entities and organizations in the digital industry. Digital Excellence in Finance, App Excellence, Top 10 Digital Entities, and Overall Digital Excellence, are some of the categories of awards under which the IBC distributes the Digital Dragons Awards. Through these awards, the organization claims to create an ultimate opportunity for businesses to get recognized with testimonials of success and reliability. Its scope of application includes companies of all sizes and scales that are operating in the digital domain.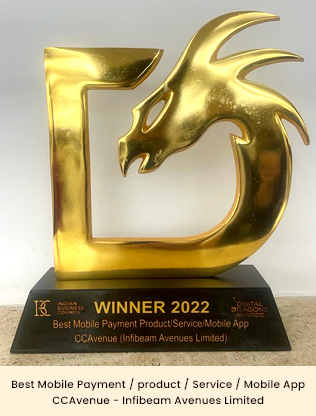 CCAvenue has always strived to offer a rich user experience to its esteemed clients through innovative payment methods. Making faster and secured payments has been a growing challenge for the Indian ecommerce users. At the same time, the payments industry is also faced with the increasing number of merchants and customers who seek optimum utilization of payments technology for their daily transaction processing. To address these challenges, CCAvenue has taken powerful initiatives in upgrading and adapting to technology that serves the needs of the current dynamic market.
In the year 2022, CCAvenue had multiple wins including 'Best Use of Technology' and 'Best Innovator' accolades at the Unlocked Awards 2022, 'Best Tech for E-Commerce' award at the 12th India Digital Awards, 'Best Online Payments Solution - Merchant' title at the Business Innovation Awards and 'Best Online Payments Solution' title at the Drivers of Digital (DOD) Awards, Economic Times Best BFSI Brands 2022, Excellence in Technology (Incumbents) at the ASSOCHAM 2nd Fintech & Digital Payments Awards 2022, and Fintech award for Digital Payments at Governance Now's BFSI Awards 2022.
Commenting on the achievement,
the Chief Business Officer at Infibeam Avenues, Mr. Pankaj Dedhia stated
"We at Infibeam Avenues feel extremely proud to receive these prestigious titles, and consider it as a sign of our success in offering new and innovative digital experiences to millions of e-commerce merchants and their customers. With our payments innovation, we have endeavored to power thousands of businesses to accept payments seamlessly. Our newly launched CCAvenue Mobile App caters to users from almost every segment, helping them go cashless and make their lives simpler. I'd like to thank the organizers for acknowledging our efforts."
About CCAvenue

CCAvenue, the flagship brand of Infibeam Avenues Limited, is a PCI DSS 3.2.1 compliant payments platform for eCommerce businesses in India. The organization serves millions of merchants spread across verticals such as Retail, Travel, Real Estate, Telecommunication, Government departments, and Utility billers, Hospitality, Education and Healthcare. It enables merchants to accept online payments through a spectrum of new-age payment options including 6 major Credit Cards, 97+ Debit Cards (All MasterCard / Visa / Maestro / RuPay Cards), Amex EzeClick, 58+ Net Banking, Mobile Wallets, UPI and up to 15 Multi Bank EMI options.