CCAvenue bags award for 'Best Innovation in Payments & Transfers' at the prestigious MoneyTech Awards organized by Entrepreneur India
10th April, 2017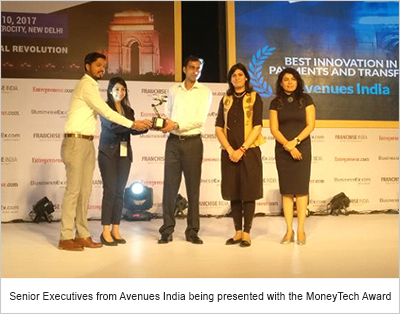 A trophy is not just about the beautifully carved golden statue but is also symbolic of one's continued commitment to excellence. Adding to its string of noteworthy accolades, CCAvenue, the country's leading eCommerce solutions provider announced another important win at the MoneyTech Awards today. The PG was conferred with an accolade, under the 'Best Innovation in Payments & Transfers' category for its powerful social commerce facility, CCAvenue S.N.I.P.
Organized by Entrepreneur India, the MoneyTech Awards was conducted as a part of the MoneyTech Summit 2017. This year, the summit aimed to discuss the future of digital finance by bringing together a gamut of thought leaders, including 250+ of India's leading entrepreneurs, fintech startups, current industry leaders, financial services incumbents, and large tech companies. The summit was followed by the MoneyTech Awards, which recognizes and rewards brilliant work done by companies and leaders in the fintech domain. The nominations are evaluated by an independent jury based on parameters like innovation, user experience, ease of implementation and scalability, the solution's ability to interface with other systems and growth of the business.
Commenting on the win,
Mr. Vishwas Patel, Founder & CEO, Avenues Group
said: "Social media prevalence in the country is growing at a phenomenal pace, with nearly 136 million active users, as of January 2016. Naturally, it has become a popular medium of commerce. Through CCAvenue S.N.I.P., we are enabling merchants to leverage the full potential of this platform to start and grow their businesses. S.N.I.P. allows merchants to sell products and collect payments in-stream easily through Facebook, Twitter, WhatsApp, and so on. We are happy to have been recognized by Entrepreneur India. The award will further inspire CCAvenue in developing the best-in-class solutions backed by state-of-the-art technology to create maximal business opportunities for our web merchants".
Being India's first and largest payment gateway, technological innovations and leading edge solutions have been the hallmark at CCAvenue. The payment gateway endeavours to continue supporting the merchant community in India to digitize their businesses and increase their earning potential by introducing further proprietary solutions in the months ahead.
About Avenues
Headquartered in Mumbai, CCAvenue is a payments platform for ecommerce businesses in India. CCAvenue is designed to help its 1 lakh+ merchants accept online payments through a spectrum of new-age payment options including 6 major Credit Cards, 98+ Debit Cards (All MasterCard /Visa /Maestro /RuPay Cards), Amex EzeClick, 53+ Net Banking, 48 Bank IMPS, 16 Prepaid Instruments and up to 12 Multi Bank EMI options. CCAvenue now also offers UPI (Unified Payments Interface) and will soon be adding BBPS (Bharat Bill Payment System) payment facility on its platform. Backed by a 15-year history of industry firsts, outstanding innovations and prestigious accolades, CCAvenue offers a multi-channel payment platform, along with a bunch of disruptive features such as CCAvenue Checkout, CCAvenue S.N.I.P., CCAvenue Store Front, CCAvenue Card Storage Vault (tokenization) and more. CCAvenue has successfully achieved the ISO/IEC 27001:2013 certification in addition to being PCI DSS 3.2 compliant.