CCAvenue bags the ASSOCHAM Award for Excellence in Innovation / Technology at the India International Fintech Festival 2022
10th June, 2022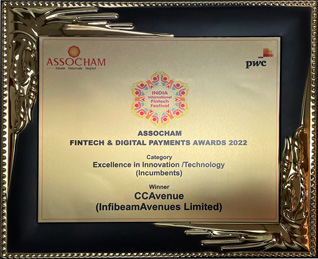 Infibeam Avenues' digital payments platform CCAvenue celebrated another moment of pride when it was recognized for its Excellence in Innovation / Technology (Incumbents) at the ASSOCHAM 2nd Fintech & Digital Payments Awards 2022. The awards were announced at a ceremony that was held at Hotel Le Meridien, New Delhi on 10th June 2022 during the India International Fintech Festival 2022. Mr. Pranjal Pandey, Sr. Manager and Mr. Abhay Gupta, Assistant Manager from the Regional office of Infibeam Avenues, received the trophy on behalf of the organization.
The India International Fintech Festival 2022 is aimed at recognizing the performance of leading financial service providers and incumbents that have contributed to innovation and development in technology. It featured the presence of well-known speakers from various industries including payments, fintech, and Banks. The event also focused on exploring the key technological advances that will power the future of financial services and digital infrastructures.
CCAvenue is a leading payments brand specializing in providing fast, secure and reliable payment solutions to more than a million online merchants across the country. These include ecommerce businesses ranging from startups, SMEs and large enterprises. With its strong infrastructure and scalable technology, CCAvenue provides its merchants with 250+ payment options with access to all payment modes including credit card, debit card, net banking, UPI and digital wallets among others.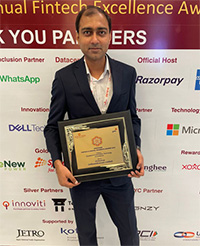 CCAvenue has been a winner of many prestigious accolades in 2022 including 'Best Use of Technology' and 'Best Innovator' at the Unlocked Awards 2022, 'Best Tech for E-Commerce' accolade at the 12th India Digital Awards, 'Best Online Payments Solution - Merchant' title at the Business Innovation Awards and 'Best Online Payments Solution' title at the Drivers of Digital (DOD) Awards, and Economic Times Best BFSI Brands 2022.
Remarking on the occasion,
Mr. Vishwas Patel, Executive Director at Infibeam Avenues Limited and Founder of CCAvenue
, said "It is a great honor for us to be a part of this event. I thank ASSOCHAM and the jury members for recognizing our efforts in this direction. Over the last decade, the Fintech landscape has witnessed phenomenal growth, positioning India as an inspiring force in driving digital payments on a global scale. We at CCAvenue, are fortunate enough to be active participants in this transformation and seek to further contribute to the technological advancement in digital payments."
About CCAvenue

CCAvenue, the flagship brand of Infibeam Avenues Limited, is a PCI DSS 3.2.1 compliant payments platform for eCommerce businesses in India. The organization serves millions of merchants spread across verticals such as Retail, Travel, Real Estate, Telecommunication, Government departments, and Utility billers, Hospitality, Education and Healthcare. It enables merchants to accept online payments through a spectrum of new-age payment options including 6 major Credit Cards, 97+ Debit Cards (All MasterCard / Visa / Maestro / RuPay Cards), Amex EzeClick, 58+ Net Banking, Mobile Wallets, UPI and up to 15 Multi Bank EMI options.