CCAvenue.com and State Bank of Bikaner and Jaipur sign Net Banking agreement
23rd August, 2012 - Mumbai, India
Avenues, South-Asia's largest ecommerce company, the parent company of CCAvenue, India's largest neutral online payment gateway is pleased to announce that it has signed a net banking agreement with State Bank of Bikaner and Jaipur. Now, State Bank of Bikaner and Jaipur customers can shop online at thousands of websites powered by CCAvenue.com and pay online through a direct debit to their State Bank of Bikaner and Jaipur bank accounts.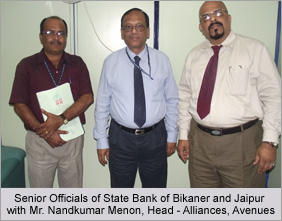 State Bank of Bikaner and Jaipur is the only public sector bank with the headquarters in Rajasthan. It has earned a reputation of being the state-of-the-art Bank, adopting good corporate governance practices, welfare of all stakeholders and the society, providing one stop solutions to all customers, efficient use of information technology in a cost effective manner, transparent, true and fair disclosures, responsive management principles, fulfilling corporate social responsibility and implementing financial inclusion in the State of Rajasthan and aiming to provide the best banking services to one and all. By signing, the net banking agreement with Avenues, State Bank of Bikaner and Jaipur customers can now enjoy hassle free online services. They will be able to purchase and pay all types of goods and services, directly through their bank accounts at any of CCAvenue's thousands of merchant websites.
CCAvenue also benefits from the signing of the net banking agreement with State Bank of Bikaner and Jaipur. It gains yet another net banking payment option to offer its partnered merchants. This will expand its merchant reach in the Indian sub-continent. Now, CCAvenue.com merchants can sell and collect payments for their products and services instantly and directly online. Through this net banking agreement, CCAvenue.com reinforces its place as India's largest direct debit engine with 44 (and counting) prominent Indian banks.
Mr. Vishwas Patel, CEO, Avenues
, "Avenues believes in providing its merchants with innovative and comprehensive payment solutions. CCAvenue.com, India's largest neutral online payment gateway was our first product offering. We are aware of the ever-changing needs of the industry and are constantly adapting CCAvenue to meet the current demands. One of our key efforts is expanding our list of payment options to ensure that our merchants stop losing customers because the customer does not have the right card or bank account. We are pleased that State Bank of Bikaner and Jaipur is now a part of our direct debit engine."
About State Bank of Bikaner and Jaipur
The genesis of State Bank of Bikaner and Jaipur dates back to the year 1943-44, when the Bank of Jaipur Ltd. and the Bank of Bikaner Ltd. came into existence. In 1960, both banks were incorporated as subsidiaries of State Bank of India and named as State Bank of Bikaner and State Bank of Jaipur. On January 1, 1963, both banks were merged into one entity viz. State Bank of Bikaner and Jaipur. The constitution, capital, management and other matters pertaining to the Bank are governed by the provisions of SBI (Subsidiary Banks) Act, 1959. 75% of the shares of SBBJ are held by SBI and the remaining by institutions and general public. SBBJ went public in the year 1997-98 with an issue of 12.21 lakh shares of Rs.100 each at a premium of Rs.440/-. At the time of incorporation, the Bank had a business of Rs.45 crore, net profit of Rs.7.5 lakh and a network of 124 branches (96 in Rajasthan). By March 2011 the business of the Bank increased to Rs.95,596 crore, net profit stood at Rs.550.88 crore and the number of branches increased to 902 (744 in Rajasthan). The Bank shoulders Lead Bank responsibility in 9 districts of the State.
About Avenues
Incorporated in the year 2001, Avenues is a zero-debt company that has been profitable from its inception. Avenues is headquartered in Mumbai, India and has subsidiary companies and offices in USA and Singapore. Avenues has developed several innovative, cutting-edge ASP hosted solutions that are used by thousands of eMerchants globally.
Beginning as a single product company that catered to the local market, Avenues has become a multi-product company that operates on a global scale. The Avenues support and development center is based in Mumbai, India. The total strength of the Avenues team is currently 125 persons spanning across all offices.
Avenues has three Business Units namely - Avenues Commercial Services, Avenues Travel Industry Services and Avenues Community Related Services. For more information, log onto:
www.Avenues.info
.
About CCAvenue
CCAvenue® is South Asia's largest payment gateway solution powering thousands of eMerchants with real time, multi-currency, multiple payment options online payment processing services. The solution is powered by proprietary technology that integrates transaction-processing, advance shopping cart, auction payment collection facility, fraud control, financial reporting and order tracking. CCAvenue is the only complete PG solution in the region that has the unique ability to offer the full spectrum of Internet payment options, including:
| | |
| --- | --- |
| | All types of Credit Card processing through Multiple Banks and Card Associations |
| | Debit Card processing |
| | ATM cum Debit Card processing |
| | Direct Debit to bank accounts of 44+ Indian Banks (India's largest direct debit engine), 20+ Chinese Banks and 3 Singapore Banks |
| | Mobile Payment Solutions via PayMate®, SBI Freedom and Union Bank |
| | Cash Card Processing of ITZ Cash®, Done Card, OxiCash and NoQ24x7 |