CCAvenue felicitated with 'ET Best Brands 2021' accolade by the Economic Times
21st December, 2021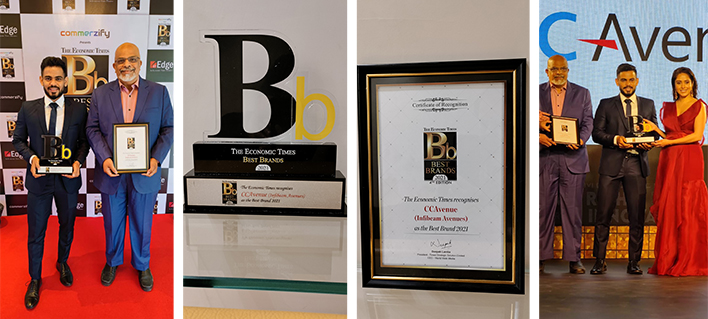 In recognition of its pioneering leadership in the Fintech industry for over two decades, CCAvenue, Infibeam Avenues' digital payments solutions provider was declared to be amongst the ET Best Brands 2021 by the Economic Times. Mr. Pramod Ganji, Vice President - Business Development and Mr. T. Nandakumar Menon, Vice President - Alliances and Operations at Infibeam Avenues Ltd, accepted the award at the prestigious event held in Mumbai on 21st December 2021.
Having felicitated the leading brands in specific sectors such as BFSI, Education, Healthcare, FMCG, Technology, Lifestyle and Luxury and much more, The Economic Times, has now recognized the
Best Brands of 2021
that have succeeded in being at par with global brands. The Best Brands 2021 are those brands that command mind awareness, recall success, popularity, and the benefit of instant association, even among consumers who do not frequently buy their products, or are not even a part of the target audience.
This year has been phenomenal for CCAvenue as it has been rewarded with the most esteemed accolades including 'Superbrands 2021' title (for Excellence and Leadership in the Fintech sector), ET Best BFSI Brands 2021, 'Skoch Order-of-Merit' for excellence in digital payments, 'Best Use of Technology' honor at the Unlocked Awards 2021, 'Best Digital Payment Facilitator' accolade at the Driver of Digital Awards, and 'Best Technology Solution for Enterprise Risk Management' at the Innovation and Technology awards 2021.
Catering to the requirements of large corporates, SMEs and start-ups across all major market segments, CCAvenue has played a key role in their survival and growth through its range of innovative payment solutions. Its fast, secure and flexible payment processing platform is availed by millions of online merchants in India, the Middle East and the USA. CCAvenue offers them the largest bouquet of payment options, the highest success rates, the latest payment innovations, sector-specific customization and an enhanced user experience for their customers.
Speaking on the occasion,
Mr. Pramod Ganji, Vice President - Business Development at Infibeam Avenues,
commented: "We are privileged to be recognized amongst the best brands by Economic Times. This prestigious award is an acknowledgment of our persistent endeavors and achievements in the digital payment ecospace for the past two decades. It will inspire us to further innovate and develop state-of-the-art payment solutions to meet the growing demands of the Indian ecommerce sector."
About CCAvenue

CCAvenue, the flagship brand of Infibeam Avenues Limited, is a PCI DSS 3.2.1 compliant payments platform for eCommerce businesses in India. The organization serves millions of merchants spread across verticals such as Retail, Travel, Real Estate, Telecommunication, Government departments, and Utility billers, Hospitality, Education and Healthcare. It enables merchants to accept online payments through a spectrum of new-age payment options including 6 major Credit Cards, 97+ Debit Cards (All MasterCard / Visa / Maestro / RuPay Cards), Amex EzeClick, 58+ Net Banking, Mobile Wallets, UPI and up to 15 Multi Bank EMI options.