CCAvenue honored with 'Best Tech for E-Commerce' accolade at the 12th India Digital Awards
12th January, 2022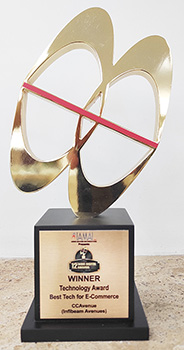 In acknowledgement of its support to Indian eCommerce sector for the past few decades, CCAvenue was recently awarded the 'Best Tech for E-Commerce' title at the 12th India Digital Awards (IDA) 2022. The esteemed accolade was presented to Infibeam Avenues at a virtual event organized by IAMAI on 12th January, 2022. One of the primary objectives of IDA is to recognize and acknowledge leading businesses for their outstanding contribution in digital payments technology. This event was specifically aimed at acknowledging outstanding organizations in the e-commerce and technology industries including food tech companies, travel & ticketing companies, shopping websites etc.
Since its inception in 2009, the India Digital Awards (IDA) are known as one of the most prestigious awards and a true symbol of digital excellence. Basically, the purpose of the organization is to celebrate organizations, teams and practitioners who have surpassed landmarks and delivered successful business outcomes using digital as a medium. Through their award, IDA offers an opportunity to entrants for proving their mettle in establishing a benchmark in their industry, differentiating their product, winning new businesses while boosting the morale of their employees and the visibility of their clients.
CCAvenue, the flagship brand of Infibeam Avenues, deploys the latest payment technologies for e-commerce, involving advanced features that improve transaction success rates and redefine user experience. In the current challenging times of Covid-19, when the norms of payments have completely changed, CCAvenue played a key role in facilitating digital payments for online professionals assisting them to collect and make payments in the most secured and hassle-free way. This helped merchants have a smooth transition from cash based to online mode of payments.
With the advent of the new-year, CCAvenue has already began to make additions to its benevolent list of accolades including the ones achieved in the previous year. The year 2021 was truly successful for CCAvenue as it was rewarded with the most esteemed accolades including the 'Superbrands 2021' title (for Excellence and Leadership in the Fintech sector), Economic Times Best BFSI brands 2021 accolade, Skoch Order-of-Merit for excellence in digital payments, 'Best use of Technology' honor at the Unlocked Awards 2021, 'Best Digital Payment Facilitator' accolade at the Driver of Digital Awards 2020, and 'Best Technology Solution for Enterprise Risk Management' at the Innovation and Technology awards 2021.
Speaking on the occasion,
Mr. Vishwas Patel, Executive Director at Infibeam Avenues Limited and Founder of CCAvenue
, stated: "We are thrilled to win the 'Best Tech for E-commerce' accolade at the 12th Edition of India Digital Awards. CCAvenue is proud to be acknowledged for its unflinching dedication to payments technology and the role that it has played in empowering Indian merchants to optimize their customer reach. This will further motivate us to innovate more in the digital payments space on a long term basis."
About CCAvenue

CCAvenue, the flagship brand of Infibeam Avenues Limited, is a PCI DSS 3.2.1 compliant payments platform for eCommerce businesses in India. The organization serves millions of merchants spread across verticals such as Retail, Travel, Real Estate, Telecommunication, Government departments, and Utility billers, Hospitality, Education and Healthcare. It enables merchants to accept online payments through a spectrum of new-age payment options including 6 major Credit Cards, 97+ Debit Cards (All MasterCard / Visa / Maestro / RuPay Cards), Amex EzeClick, 58+ Net Banking, Mobile Wallets, UPI and up to 15 Multi Bank EMI options.