CCAvenue integrates Bandhan Bank's Direct Debit facility offering its merchants access to more than 10 million new customers
17th March, 2017
CCAvenue.com, a payment services provider powering more than a lakh Indian web business today announced the inclusion of Bandhan Bank to its extensive payment portfolio. With this addition, registered web merchants will now have an opportunity to accept online payments from the bank's humongous customer base of over 10 million users. The integration further expands CCAvenue's Direct Debit Engine, which is currently the largest in the country, consisting of more than 58 banks.
Founded in 2015, Kolkata headquartered Bandhan Bank holds the distinction of being the first bank to be set up in the eastern part of India after Independence. In nearly two years of its operations, the bank has consolidated its presence by launching several new branches across the country. Presently, the bank has 3546 touch points consisting of 828 bank branches, 2437 Doorstep Service Centres (DSCs) and 281 ATMs, serving urban, semi-urban and rural customers alike. Bandhan Bank enables these customers to meet their financial needs by providing them with a variety of general banking and micro banking services including savings, loan products and more.
The addition of Bandhan Bank on CCAvenue PG will substantially increase the revenue earnings of its web merchants by offering them access to the bank's vast and growing set of customers. Furthermore, it will offer an advantage to all Bandhan Bank customers during online transactions by allowing them to make real-time, convenient and secure online payments on all leading eCommerce sites, through a direct debit from their bank accounts.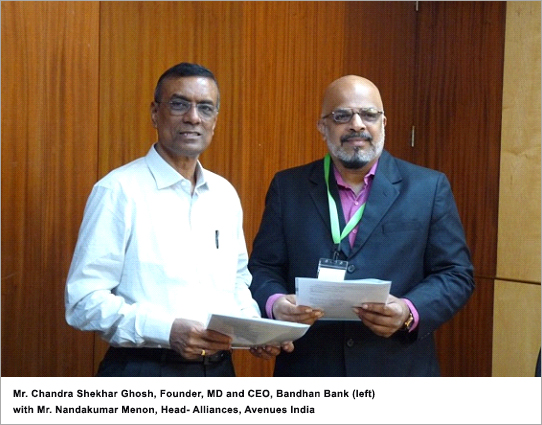 Commenting on the latest addition,
Mr. Nandakumar Menon, Head - Alliances, Avenues India
commented: "As the leading provider of innovative payment solutions in the region, Avenues India is delighted to sign this strategic agreement with Bandhan Bank. Online business banking is the backbone of our current economy and our e-payment gateway combined with Bandhan Bank's financing solutions will provide enhanced support to our whole merchant base".
Mr. Chandra Shekhar Ghosh, Founder, MD and CEO, Bandhan Bank
said: "As the fastest growing bank, we are always exploring ways and means for smart transactions. Our partnership with Avenues India gives us the opportunity to support our valued customers by offering them convenient banking solutions and provide easy access to e-payment gateways".
About Bandhan Bank

Inaugurated in August 2015 by Arun Jaitley (Union Minister for Finance, Defence and Corporate Affairs), Kolkata-headquartered Bandhan Bank is a wholly owned subsidiary of Bandhan Financial Holdings Limited (BFHL), which is owned by Bandhan Financial Services Limited (BFSL), the largest micro finance organization in India. It is a bank for all but its focus remains unchanged; to meet the financial needs of people who are overlooked by the formal banking system, and create better education, health care and self-employment opportunities. Currently, the Bandhan Bank has 3546 touch points consisting of 828 bank branches, 2437 Doorstep Service Centres (DSCs) and 281 ATMs, serving more than 10 million customers. It operates across two divisions - general banking and micro banking, offering a suite of retail financial solutions, including a variety of savings and loan products. After completing three years of operations in 2018, Bandhan Bank plans to come out with an initial public offering (IPO). To know more, visit www.bandhanbank.com.
About Avenues
Headquartered in Mumbai, CCAvenue is a payments platform for ecommerce businesses in India. CCAvenue is designed to help its 1 lakh+ merchants accept online payments through a spectrum of new-age payment options including 6 major Credit Cards, 98+ Debit Cards (All MasterCard /Visa /Maestro /RuPay Cards), Amex EzeClick, 53+ Net Banking, 48 Bank IMPS, 16 Prepaid Instruments and up to 12 Multi Bank EMI options. CCAvenue also offers UPI (Unified Payments Interface) and will soon be adding BBPS (Bharat Bill Payment System) payment facility on its platform. Backed by a 15-year history of industry firsts, outstanding innovations and prestigious accolades, CCAvenue offers a multi-channel payment platform, along with a bunch of disruptive features such as CCAvenue Checkout, CCAvenue S.N.I.P., CCAvenue Store Front, CCAvenue Card Storage Vault (tokenization) and more. CCAvenue has successfully achieved the ISO/IEC 27001:2013 certification in addition to being PCI DSS 3.2 compliant.