CCAvenue partners with Janata Sahakari Bank to offer another Direct Debit facility on its advanced payment platform
23rd February, 2017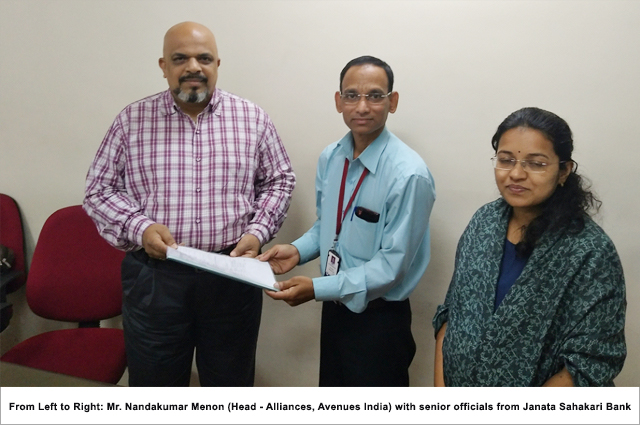 CCAvenue.com, the brand preferred by more than 1 lakh web businesses in India announced an addition to its Direct Debit Engine today. The payment gateway has inked a partnership with Janata Sahakari Bank, a multi-state co-operative bank headquartered in Pune. With this alliance, CCAvenue continues to expand its extensive portfolio of 200+ payment options for the benefit of its diverse merchant base.
Janata Sahakari Bank was founded in October 1949. Since then, the bank has made steady progress and successfully multiplied its network to 68 branches and 2 extension counters spanning across Maharashtra, Khedbrahma, a town in Gujarat and a few surrounding areas. Janata Sahakari Bank offers a multitude of banking facilities including loan and deposit schemes, online banking account called JSB Easy Net, bill payments, life insurance (as a corporate agent of Max Life Insurance), foreign exchange services and ATM cum Debit card to its well-established customer base. In the last quarter of 2016, the bank had nearly 14 lakh customers and was working towards adding 2 lakh new customers in the following financial year.
Through the addition of Janata Sahakari Bank's internet banking facility, CCAvenue.com is further strengthening its Direct Debit Engine, which is currently the largest in the country, consisting of more than 57 banks. The partnership will offer registered eCommerce merchants an opportunity to maximize their revenue earnings through the humongous customer base of the bank. Further, it will also enable all Janata Sahakari Bank account holders to make online payments conveniently on nearly 1 lakh websites powered by CCAvenue.
Being India's largest third-party payment aggregator, CCAvenue aims to continue growing its network and making digital payments more accessible by building alliances with three times as many banks by the end of this fiscal year. As the company rolls out more and more payment options this year, eCommerce businesses can look forward to making some great progress ahead.
About Janata Sahakari Bank

Janata Sahakari Bank Ltd. is a multi-state scheduled co-operative bank that was established on 18 October 1949 in Pune with an aim to attend to the financial needs of the economically weaker sections of the society. In the last 67 years of its operations, the bank has made steady progress and carved a status for itself as a 'bank of the masses, not only for the classes'. Janata Sahakari Bank has a dominant presence across the length and breadth of Maharashtra, the tehsil of Khedbrahma, a town in Gujarat, India, and within 15 kilometers surrounding the said tehsil. Through its network of 68 branches, 2 extension counters and several ATMs, Janata Sahakari Bank offers a variety of services such as loans and deposits, online banking, bill payments and more to nearly 14 lakh customers. In addition to Internet Banking and SMS Banking, the bank also offers a proprietary and user-friendly mobile banking app, which is available on the Android, iOS and Blackberry app stores. The data center of Janata Sahakari Bank is ISO 9001:2008 and ISO 2700:2013 certified, establishing the security of its information assets. The bank looks forward to building a fundamentally strong financial institution and continually reiterates its commitment to financial inclusion by offering all customers easy access to financial products. To know more, visit www.janatabankpune.com.
About Avenues
Headquartered in Mumbai, CCAvenue is a payments platform for ecommerce businesses in India. CCAvenue is designed to help its 1 lakh+ merchants accept online payments through a spectrum of new-age payment options including 6 major Credit Cards, 98+ Debit Cards (All MasterCard /Visa /Maestro /RuPay Cards), Amex EzeClick, 53+ Net Banking, 48 Bank IMPS, 16 Prepaid Instruments and up to 12 Multi Bank EMI options. CCAvenue also offers UPI (Unified Payments Interface) and will soon be adding BBPS (Bharat Bill Payment System) payment facility on its platform. Backed by a 15-year history of industry firsts, outstanding innovations and prestigious accolades, CCAvenue offers a multi-channel payment platform, along with a bunch of disruptive features such as CCAvenue Checkout, CCAvenue S.N.I.P., CCAvenue Store Front, CCAvenue Card Storage Vault (tokenization) and more. CCAvenue has successfully achieved the ISO/IEC 27001:2013 certification in addition to being PCI DSS 3.2 compliant.