CCAvenue scores a double win of 'Best Technology provider' and 'Best Technology solution for Enterprise Risk Management' titles at the Inn Tech Awards 2022
24th June, 2022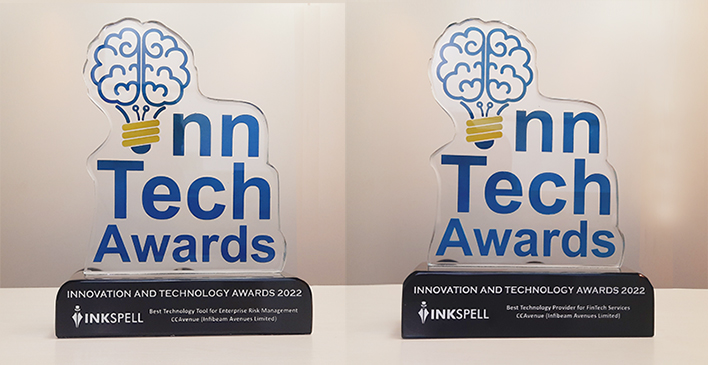 It is another moment of pride for CCAvenue (the leading brand of Infibeam Avenues) as it recently won the most prestigious titles of 'Best technology provider for FinTech services' & 'Best technology solution for Enterprise Risk Management' at the Inn Tech Awards 2022 organized by Inkspell & Global Trends Forum. The payment aggregator was awarded with these accolades during a ceremony that was held on the 24th of June at Eros Hotel, New Delhi. An Inkspell initiative, this event was arranged to recognize exceptional performance in innovation and technology.
Inkspell Media accredits the role of technology and innovation in the overall uplifting of the ecosystem that we live in. Its platform 'Inn-Tech 2022 - Innovation and Technology Awards' is designed to specifically compliment the work done by technology solution providers, vendors, enablers, facilitators, etc. in providing specialised technology services to their clients. The Inkspell Media forum also serves a range of opportunities for marketing, branding and partnership, to professionals from various industry segments.
CCAvenue caters to millions of ecommerce businesses including SMEs and large enterprises, with its digital payment solutions. Its technology enables users to execute e-commerce transactions in a safe and secure manner. CCAvenue's multi-lingual online platform provides merchants with 250+ payment options and access to all payment modes including debit card, credit card, net banking, UPI and digital wallets among others. Headquartered in India, CCAvenue also has a strong presence in the Middle East and the US.
In 2022, CCAvenue has bagged many awards including 'Best Use of Technology' and 'Best Innovator' at the Unlocked Awards 2022, 'Best Tech for E-Commerce' accolade at the 12th India Digital Awards, 'Best Online Payments Solution - Merchant' title at the Business Innovation Awards and 'Best Online Payments Solution' title at the Drivers of Digital (DOD) Awards, Economic Times Best BFSI Brands 2022, and Excellence in Technology (Incumbents) at the ASSOCHAM 2nd Fintech & Digital Payments Awards 2022.
Commenting on the occasion,
Mr. Pankaj Dedhia, the Chief Business Officer at Infibeam Avenues
, said "I'd like to thank the jury members and the organizers of the Inn Tech Awards for this recognition. We are privileged to receive these awards on behalf of Infibeam Avenues, and appreciate your acknowledgement of our endeavors in payments technology. This further strengthens our vision to constantly provide innovative technology and advanced user interface for digital payments to millions of our merchants from the Operations, Tech, and Finance segments."
About CCAvenue

CCAvenue, the flagship brand of Infibeam Avenues Limited, is a PCI DSS 3.2.1 compliant payments platform for eCommerce businesses in India. The organization serves millions of merchants spread across verticals such as Retail, Travel, Real Estate, Telecommunication, Government departments, and Utility billers, Hospitality, Education and Healthcare. It enables merchants to accept online payments through a spectrum of new-age payment options including 6 major Credit Cards, 97+ Debit Cards (All MasterCard / Visa / Maestro / RuPay Cards), Amex EzeClick, 58+ Net Banking, Mobile Wallets, UPI and up to 15 Multi Bank EMI options.