CCAvenue wins 'Best Digital Payment Facilitator' & 'Best Payment Technology / Solution Provider' titles at the Digital Dragons Awards 2021
26th November, 2021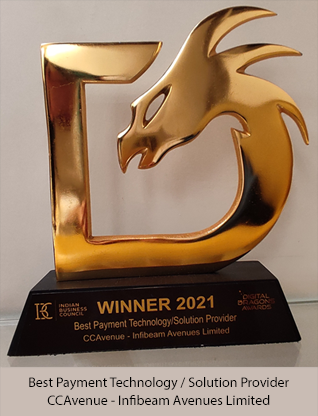 In recognition of its pivotal role in the Indian Fintech sector for the past few decades, CCAvenue, Infibeam Avenues' leading digital payments platform was named 'Best Digital Payment Facilitator' & 'Best Payment Technology / Solution Provider' at the Digital Dragons Award 2021. The prestigious accolade was awarded to Infibeam Avenues at the virtual award ceremony that was organized by the Indian Business Council on November 26, 2021. The primary objective of the awards was to honour leading professionals, exemplary campaigns and case studies, innovative products and solutions, and outstanding entities and organisations in the digital industry.
Digital Dragons Awards is one of the most coveted recognitions for digital excellence in India. This program is the ultimate testimonial of business success and reliability for companies of all sizes and scale that are operating in the digital domain including but not limited to digital marketing, digital media and content, digital development, digital processes and digital facilitation.
During the challenging times of COVID-19, doctors, lawyers, chartered accountants and other professionals continued to play a crucial role through video / telephone consultations. However, it was a challenge for these professionals to collect their consultation fees due to the strict lockdown and social distancing norms in place. CCAvenue on-boarded thousands of these professionals during this period and enabled them to accept online payments safely and securely from their customers. Consequently, these professionals were able to make a smooth transition from cash to safe and hygienic digital modes of payment.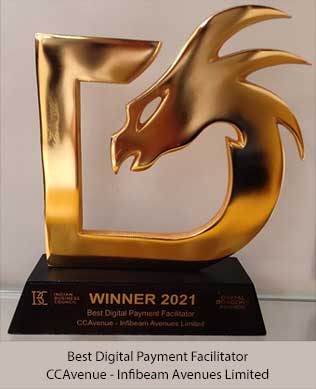 The year 2021 has so far been truly successful for CCAvenue as it has been rewarded with the most esteemed accolades including the 'Superbrands 2021' title (for Excellence and Leadership in the Fintech sector), Economic Times Best BFSI brands 2021 accolade, Skoch Order-of-Merit for excellence in digital payments, 'Best use of Technology' honor at the Unlocked Awards 2021, 'Best Digital Payment Facilitator' accolade at the Driver of Digital Awards 2020, and 'Best Technology Solution for Enterprise Risk Management' at the Innovation and Technology awards 2021.
Speaking on the occasion,
the Chief Business Officer at Infibeam Avenues, Mr. Pankaj Dedhia commented
: "It's thrilling to be acknowledged for our innovative payment solutions and services in the digital payments space. CCAvenue has become synonymous with payments innovation, and we're proud of our role in empowering Indian merchants to maximize their customer reach. This award is a tribute to our clients and business partners who have helped in making online payments more accessible to consumers across the country."
About CCAvenue

CCAvenue, the flagship brand of Infibeam Avenues Limited, is a PCI DSS 3.2.1 compliant payments platform for eCommerce businesses in India. The organization serves millions of merchants spread across verticals such as Retail, Travel, Real Estate, Telecommunication, Government departments, and Utility billers, Hospitality, Education and Healthcare. It enables merchants to accept online payments through a spectrum of new-age payment options including 6 major Credit Cards, 97+ Debit Cards (All MasterCard / Visa / Maestro / RuPay Cards), Amex EzeClick, 58+ Net Banking, Mobile Wallets, UPI and up to 15 Multi Bank EMI options.