CCAvenue wins 'Best Online Payments Solution - Merchant' accolade at the Corporate Titan Awards 2022
30th June, 2022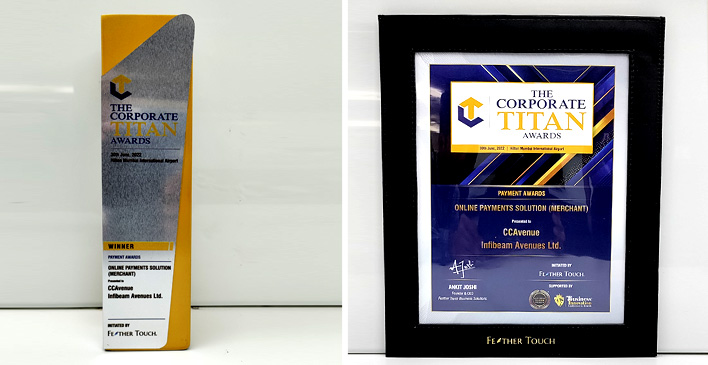 In recognition of its path-breaking payment innovations and stellar contribution in digital payments, Infibeam Avenues' flagship brand CCAvenue was honored with the prestigious 'Best online payments solution - Merchant' title at the Corporate Titan Awards 2022 organized by Feather Touch Business Solutions. Mr. Pramod Ganji, Vice President - Business Development and Mr. T. Nandakumar Menon, Vice President - Alliances and Operations at Infibeam Avenues Ltd, accepted the award on behalf of the company at the prestigious event held in Mumbai on 30th June 2022.
The Corporate Titan Awards are hosted to recognize the individuals and organizations who have made an outstanding contribution to industry and the society, at large. The awards are bestowed to encourage improvement in each business sector. Feather Touch Business Solutions, the award organiser, seeks to explore new market trends, products, services, and technological innovation, as well as support SMEs, start-ups, and leading corporations to connect and maximize the utilization of new digital business tools toward global competitiveness.
CCAvenue solves the payment acceptance and Fintech requirements of millions of businesses across almost all major industry verticals through the largest bouquet of payment options, innovative and scalable technology, and best-in-class processes with maximum level of security. Our 250+ payment portfolio includes the leading digital wallets, credit cards, debit cards, net banking, and other mobile payment facilities. Merchants registered with CCAvenue can also offer customers the EMI options of leading banks, BNPL (But Now Pay Later) facility, a world-class IVR facility and UPI, NPCI's revolutionary mode of instant payments. They can accept payments through multiple channels including web, phone, in-app, email/SMS, social network (CCAvenue S.N.I.P) and offline media through product QR codes.
This year, CCAvenue has clinched a series of awards and recognitions, including accolades at the Unlocked Awards 2022, IAMAI's 12th India Digital Awards, Feather Touch's Business Innovation Awards 2022, Economic Times Best BFSI Brands 2022, ASSOCHAM 2nd Fintech & Digital Payments Awards 2022 and the Inn Tech Awards 2022.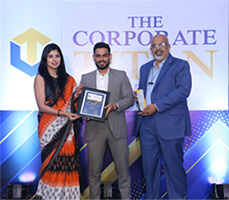 Commenting on the win,
Mr. Pramod Ganji, Vice President - Business Development, Infibeam Avenues Ltd
said: "On behalf of the CCAvenue team, we sincerely thank the organisers as well as the jury members of the Corporate Titan Awards for recognizing our efforts and achievements in the digital payments space. Some of the key factors behind our success have been our rich domain expertise, an unwavering commitment to excellence, cutting-edge payments innovations, our strategic alliances, availability of maximum payment options on our platform, and a best-in-class risk mitigation solution. This award will encourage and stimulate us to innovate further to deliver topnotch solutions for eCommerce businesses in the country."
About CCAvenue

CCAvenue, the flagship brand of Infibeam Avenues Limited, is a PCI DSS 3.2.1 compliant payments platform for eCommerce businesses in India. The organization serves millions of merchants spread across verticals such as Retail, Travel, Real Estate, Telecommunication, Government departments, and Utility billers, Hospitality, Education and Healthcare. It enables merchants to accept online payments through a spectrum of new-age payment options including 6 major Credit Cards, 97+ Debit Cards (All MasterCard / Visa / Maestro / RuPay Cards), Amex EzeClick, 58+ Net Banking, Mobile Wallets, UPI and up to 15 Multi Bank EMI options.