CCAvenue wins 'Best Online Payments Solution' title at the DOD Awards, Its founder Mr. Vishwas Patel declared 'Top Digital Leader'
25th February, 2022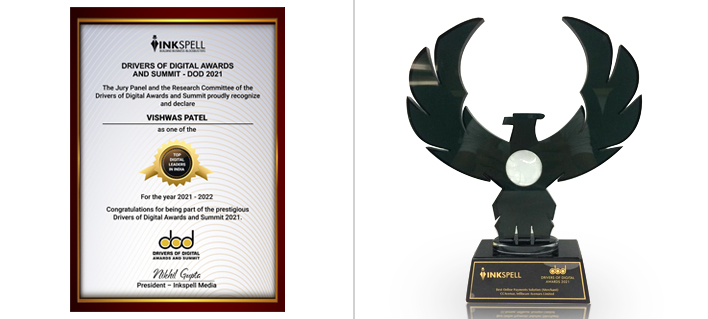 CCAvenue, the digital payments brand of Infibeam Avenues was recently honored with the 'Best Online Payments Solution' title at the Drivers of Digital Awards and Summit 2021 organized by Inkspell Media. Mr. Vishwas Patel, founder of CCAvenue and Executive Director of Infibeam Avenues, was awarded the 'Top Digital Leader - Veteran' accolade at the virtual event which was held on 25th February 2022.
The Drivers of Digital Awards and Summit identifies and acknowledges organizations and individuals who have contributed immensely towards the transformation of their industry, and have been an inspirational force in enhancing the power of digital and automated process in various sectors such as FinTech, AdTech, eCommerce, Content development and publishing, Digital Marketing, MarTech, Startup Ecosystem, and Media Management.
CCAvenue has been providing online payment solutions to millions of merchants across the country and abroad. Through its innovative technology and advanced user interface, CCAvenue offers instant support to merchants for their Operations, Finance and Tech among other functions. It provides best-in-class services to various sectors such as eCommerce, Banks, education and hospitality with its key payment solutions. CCAvenue ensures one of the highest success rates in the industry, enabling its merchants to grow their business through the enhanced revenue stream.
While accepting his award,
Mr. Vishwas Patel, Executive Director at Infibeam Avenues Limited and Founder of CCAvenue
, commented: 'Thank you, Inkspell for this honor. I am truly humbled to be recognized as the top digital leader at the DOD Awards. Special thanks to my team at Infibeam Avenues and all those who have been an integral part of our successful business journey over the past few decades. I'd like to share a few words of advice for entrepreneurs and professionals aiming to succeed in the digital economy. Do not be overwhelmed by digital disruption, new regulations and the frequent changes in market requirements. They present you with new opportunities for innovation and growth. Embrace these opportunities with a positive attitude, and success will surely come your way."
On receiving the
Best Online Payments Solution (Merchant) award
on behalf of CCAvenue,
Mr. Pankaj Dedhia, the Chief Business Officer at Infibeam Avenues
, stated "I would like to thank the jury and the organizers of the DOD Awards on behalf of Infibeam Avenues, for recognizing CCAvenue as a provider of the Best Online Payments Solution for Merchants. This award will be a motivating force that would inspire us to continue offering the best-in-class contactless payment solutions that deliver higher transaction success rates, enhanced user experience and maximum revenue growth. We are proud to play a prominent role in the Digital India movement."
About CCAvenue

CCAvenue, the flagship brand of Infibeam Avenues Limited, is a PCI DSS 3.2.1 compliant payments platform for eCommerce businesses in India. The organization serves millions of merchants spread across verticals such as Retail, Travel, Real Estate, Telecommunication, Government departments, and Utility billers, Hospitality, Education and Healthcare. It enables merchants to accept online payments through a spectrum of new-age payment options including 6 major Credit Cards, 97+ Debit Cards (All MasterCard / Visa / Maestro / RuPay Cards), Amex EzeClick, 58+ Net Banking, Mobile Wallets, UPI and up to 15 Multi Bank EMI options.