CCAvenue wins 'Best eCommerce Payment Innovation' award at the Indian eRetail Awards 2016 organized by Franchise India
29th April, 2016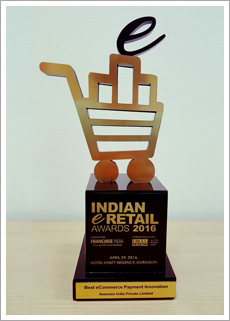 Adding yet another feather to its cap, CCAvenue bagged the
'Best eCommerce Payment Innovation Award'
at the Indian eRetail Awards 2016 organized by Franchise India on the 29th of April. Touted as one of the finest eCommerce solutions providers in India, CCAvenue has earned this award for the second time in recognition of its excellence and distinctive contribution in the eCommerce landscape.
Through their esteemed eRetail Awards, Franchise India aims to encourage and reward e-commerce players who are setting new benchmarks of excellence in innovation. Some of the listed categories of awards for the year 2016 included 'eRetail Solution Provider of the Year', 'Best Customer Experience', 'Smart use Technology eRetailer of the Year', 'Outstanding Contribution to eRetailing Award', etc. Being leaders of the online payments space, this recognition will further inspire CCAvenue in developing innovative solutions backed by state-of the-art technology to accelerate the growth of eCommerce businesses in India.
Over the past 15 years, CCAvenue has evolved remarkably to deliver constant payment innovation and the best business enhancement tools to online merchants. Recently, the organization garnered vast reputation by acquiring the ISO 27001:2013 certification for being one of the most secure and reliable payment gateway aggregators in the country. Also, in the past decade, the company has won several honoring awards including
'Best Payment Innovation Award - 2013'
at the eRetail Awards,
'Best Digital Payment Facilitator'
for the years 2014 and 2015 at IAMAI's India Digital Awards, and
'Best Digital Payment Facilitator - 2015'
at the eTales award presented by eTailing India.
Commenting on the recent accomplishment,
Mr. Vishwas Patel, Chief Executive Officer, Avenues
said "We accept this award on behalf of over a lakh of our merchants who have reposed their trust in us and continue to drive value in their business using our services. The award substantiates CCAvenue's incessant efforts in developing the best-in-class solutions that help increase the growth and earning potential of eCommerce businesses in India. We have always been at the forefront in providing our merchants with meticulously designed products and shall continue to upgrade our services to enable them in taking their business to the next level".
About Avenues
With its headquarters in Mumbai, Avenues India has developed several cutting-edge solutions that are used by thousands of eMerchants spanning across South Asia. CCAvenue offers real-time, multi-currency online payment processing services to businesses in major industry verticals. It is the only complete PG solution in the region that offers the full spectrum of Internet payment options including the 6 major Credit Cards, 98+ Debit Cards (All MasterCard /Visa/Maestro /RuPay Cards), Amex EzeClick, 53+ Net Banking, 11 Prepaid Instruments, 2 Mobile Payments and up to 9 Multi Bank EMI options. For more information, visit www.ccavenue.com.