CCAvenue wins 'Most Innovative Payment Service Provider' and 'Fastest Growing Online Payment Service Provider' accolades at the International Finance Awards
23rd January, 2020
As a consequence of its pioneering and leadership role in the digital payments industry in the U.A.E, CCAvenue, the flagship brand of Infibeam Avenues Ltd, has scored twin wins at the International Finance Awards 2019. The company received the 'Most Innovative Payment Service Provider' as well as the 'Fastest Growing Online Payment Service Provider' awards at the prestigious ceremony held in Dubai on January 23, 2020.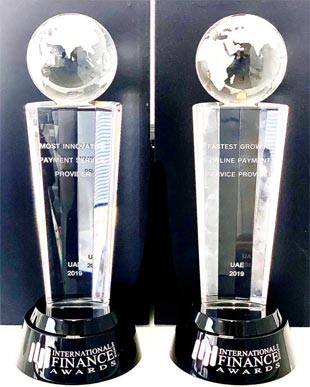 The International Finance Awards, organized by International Finance (Publications), a global business and finance magazine, recognises industry talent, leadership skills, industry net worth and capability on an international platform. Most participants are from the fields of finance, banking, asset management, brokerage, insurance, energy, oil & gas, logistics and utilities, predominantly from Middle East, Asia, Europe and Africa.
CCAvenue, South Asia's largest payment gateway, had widened its footprints in 2014 by extending advanced payment services, along with Mashreq Bank, to thousands of web merchants in the Emirates. Having tasted tremendous success in the Emirates, CCAvenue has now launched its cutting-edge payment gateway services for e-businesses in the Kingdom of Saudi Arabia.
"We are honored to receive the twin accolades at the International Finance Awards," said
Mr. Arun Jeevaraj, General Manager, CCAvenue UAE
. "On behalf of CCAvenue, I sincerely thank the organisers for recognising our persistent efforts in the rapidly evolving digital payments industry. Our company is entirely focused on supporting and enhancing the online businesses of innumerable web merchants in the Middle East, providing them easy access to the latest payment innovations."
About CCAvenue

Since its inception in 2001, CCAvenue, the flagship brand of Infibeam Avenues Limited, pioneered the online payments landscape in India to become South Asia's largest payment gateway. It offers real-time, multi-currency online payment processing services for over 1,00,000 businesses across the major industry verticals. In 2014, CCAvenue ventured into a business partnership with Mashreq Bank to widen its footprints in the Middle East. CCAvenue U.A.E. offers advanced payment services to Gulf-based web merchants so as to enable them to accept online payments securely and conveniently. Its cutting-edge platform offers easier integrations, better customizations as well as quicker onboarding for businesses and proprietorships. For larger merchants, CCAvenue provides unparalleled product differentiation with features such as Multiple Currency Processing, CCAvenue S.N.I.P. (Social Network In-stream Payments), Advanced Marketing Tools, Easier Checkouts, Automated Electronic Invoicing, etc. Currently, CCAvenue offers its merchant partners a wide range of payment options, including all the major MasterCard/Visa Credit Cards, Debit Cards, UnionPay, Samsung Pay, American Express and Net Banking facility.