Infibeam Avenues Achieves Renewal of Certification for PCI DSS 3.2.1 Compliance
26th February, 2021
The importance of online security in the digital payments space can never be overstated. In the beginning of the year, mainstream media highlighted a major security breach with a prominent payment gateway where it was claimed that the transaction data of nearly 10 Cr cardholders had been compromised.
CCAvenue, on the other hand, has continued to keep up its legacy in offering the most secured payment processing services and has renewed its PCI DSS 3.2.1 certification this year.
The Payment Card Industry Security Standards Council (PCI SSC) launched its new version of PCI DSS 3.2.1 to enhance control over online payment security and cut down card fraud. In a move to offer its merchants with these latest standards in security in payment processing and data protection, Infibeam Avenues has continued to raise its level of data security through periodic upgrades and efficient management of its systems and resources.
The Payment Card Industry Data Security Standard (PCI DSS) is basically designed for businesses and intermediaries involved in secure online transactions via cards. It consists mainly of compliance protocols that are built to manage sensitive cardholder data of online payments systems. Its standards ensure that storage, processing and transfer of cardholder data are secure. Major credit card providers including American Express, Discover Financial Services, JCB, MasterCard Worldwide, and Visa International, have compliance with PCI DSS.
CCAvenue, a leading payments solutions provider, was the first India based entity to comply with the PCI DSS certification in the year 2011. The organization has always strived to maintain itself as a certified entity through the upkeep of secure networks for payment processing, data encryption, restriction of access to information and various other security controls.
Mr. Vishwas Patel, the Executive Director at Infibeam Avenues Limited
, commented on the upgrade: "With the renewal of our PCI DSS 3.2.1 Certification, we intend to serve our merchants and their customers with the latest security standards available as of now. Our aim has always been to have an uncompromising attitude when it comes to data security and protection of customer information."
About PCI DSS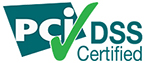 As an initiative to increase controls around cardholder data to reduce credit card fraud, the Payment Card Industry Security Standards Council was formed by five major credit card providers including MasterCard, American Express, Visa, JCB and Discover in the year 2006. To offer a proprietary information security standard to organizations that handle branded credit cards, the Council created Payment Card Industry Data Security Standard (PCI DSS). This standard provides a framework for developing a robust payment card data security process, including prevention, detection and appropriate reaction to security incidents. PCI DSS 3.2.1 is the latest version of the PCI DSS.
About CCAvenue

CCAvenue, the flagship brand of Infibeam Avenues Limited, is a PCI DSS 3.2.1 compliant payments platform for eCommerce businesses in India. The organization serves a clientele of approximately 1.3 lakh merchants spread across verticals such as Retail, Travel, Real Estate, Telecommunication, Government departments, and Utility billers, Hospitality, Education and Healthcare. It assists merchants to accept online payments through a spectrum of new-age payment options including 6 major Credit Cards, 98+ Debit Cards (All MasterCard / Visa / Maestro / RuPay Cards), Amex EzeClick, 58+ Net Banking, Mobile Wallets, UPI and up to 15 Multi Bank EMI options.