Infibeam Avenues' Executive Director Mr. Vishwas Patel wins the prestigious FIAKS Intellectual Explorer Award 2020
8th January, 2021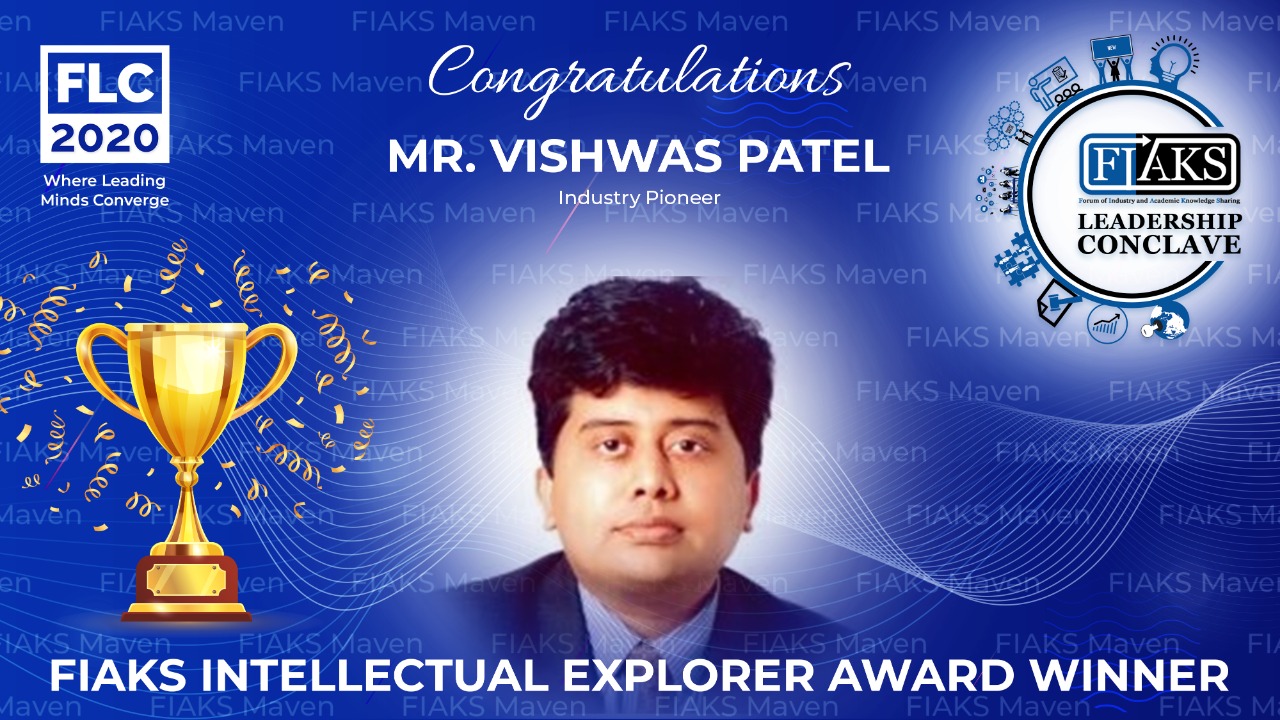 In recognition of his path-breaking accomplishments and stellar contributions as an industry leader in the Indian Fintech sector over the past two decades, CCAvenue Founder Mr. Vishwas Patel was recently honoured with the FIAKS Intellectual Explorer Award.
This accolade was presented to Mr. Patel during the FIAKS Leadership Conclave (FLC) 2020 that was held on 8th January 2021. The FIAKS Leadership Conclave is aimed at recognizing and awarding exemplary intellectual and academic contributions in Banking, Fin-Tech, Payment, Technology and E- commerce sector on the community platform.
Mr. Vishwas Patel is the Executive Director of Infibeam Avenues, the
country's first FinTech to be listed on the National Stock Exchange of India.
Mr. Patel founded CCAvenue in 2001, a multi-channel payment platform that provides advanced payment solutions to online businesses in India, the Middle East and the USA. He has studied Law from the Mumbai University and was a practicing counsel on the original side of the Bombay High Court prior to founding CCAvenue. In recognition of his numerous and stupendous achievements as a pioneer and leader in the digital payments industry, Vishwas has been appointed Chairman of the Payments Council of India (PCI), an apex non-government body representing companies in payments and settlement system in India.
The list of previous awards received by Vishwas includes the Asia-Pacific Information Security Leadership Award in Bangkok (2007), Best Payments Entrepreneur Awards at the Payments & Cards Summit (2019) and Business Entrepreneur of the Year - IT & SaS at the Entrepreneur Awards (2020). Vishwas has also launched other cutting-edge SaS solutions including ResAvenue, the complete hotel reservation and distribution platform, and BillAvenue, the RBI-approved operating unit for Bharat BillPay, India's largest interoperable bill payment network.
While accepting the award,
Vishwas Patel, the Executive Director at Infibeam Avenues Limited,
commented: "It has been a long and arduous journey but well worth the time and effort spent across multiple ventures. Instead of simply chasing numbers, I have always focused on shaping the future together with like-minded individuals considering the needs of our industry and the common good. Let me take this opportunity to thank the FIAKS team and community for this important recognition. Let me also thank my business partners and team members at Infibeam Avenues for being the driving force behind our success."
The FIAKS Intellectual Explorer Award 2020 is presented to leaders of the BFSI industry who have pushed the traditional way of thinking to discover inventive concepts. These individuals have been appreciated for sharing fundamentally exceptional thoughts that guide the community to think in a very different manner, to discover novel solutions and ways of working in the industry. With the sharing of articles, posts and news from across the globe to raising crucial questions and offering solutions, FIAKS community is creating an enlightened ecosystem of talent and innovation.