Infibeam Avenues' Executive Director Vishwas Patel declared 'Entrepreneur of the Year in Service Business - SaS & IT' at the Entrepreneur Awards 2020
29th July, 2020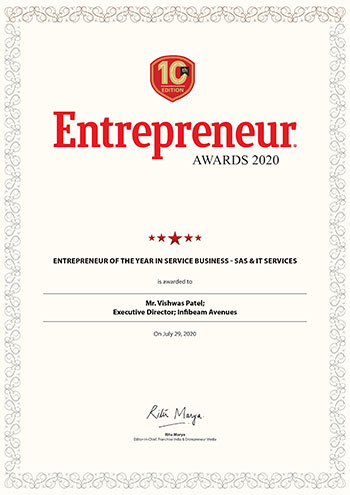 In recognition of his significant contributions towards the evolution and expansion of the Indian digital payments sector over the past couple of decades, CCAvenue founder Mr. Vishwas Patel was honoured with the top accolade for entrepreneurship in Service Business - SaS & IT at the Entrepreneur Awards 2020. Conducted jointly by Entrepreneur India and Franchise India on 29th July, the 10th edition of Entrepreneur Awards was India's first major virtual awards ceremony.
These esteemed awards are the final destination for entrepreneurs, investors, disruptors and innovators where they discuss, debate and dissect what the future holds in store in a vibrant and stimulating environment. This year the panel discussions, debates and interviews mainly revolved around the new opportunities available to business entrepreneurs in these challenging times. Star entrepreneurs Mrs. Madhuri Dixit and Dr. Shriram Nene, Mr. Manish Malhotra (reputed fashion designer), Mr. Viral Acharya (Author and former Deputy Governor of RBI), Mrs. Arundhati Bhattacharya (Chairperson and CEO, Salesforce, India) and Mr. Shyam Srinivasan (CEO and MD, Federal Bank) were among the large number of renowned business leaders, industry legends and celebrities present at the virtual event.
Accepting the award on behalf of Infibeam Avenues, Mr. Vishwas Patel stated: "I sincerely thank the organisers as well as the respected jury members for considering us worthy of this honour. It gives me immense happiness to receive prestigious awards such as the Entrepreneur awards, which are affirmation and appreciation of the difference we have made in the digital payments space over the last two decades. This recognition will motivate us to push even harder and innovate further for the betterment of Indian eCommerce."
Mr. Vishwas Patel founded CCAvenue in 2001 at a time when there were no third-party (bank neutral) payment gateways in the country. CCAvenue provided a range of advanced solutions and multiple payment options to meet the needs of the hitherto nascent eCommerce sector. Since then, the online payments space has witnessed exponential growth with CCAvenue playing a pioneering and leadership role, offering a feature-rich platform for a huge base of 1.3 lakh e-businesses. Mr. Vishwas Patel has also launched other cutting-edge SaS solutions including ResAvenue, the complete hotel reservation and distribution platform, EventAvenue, a leading online event registration solution, and BillAvenue, the RBI-approved operating unit for BharatBillPay, India's largest interoperable bill payment network.