Infibeam Avenues' Vice President Pramod Ganji features in the List of Most Dynamic Personalities 2022 in Fortune Magazine
12th September, 2022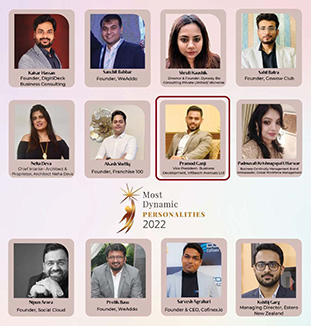 In recognition of the significant role he has played in the success of Infibeam Avenues' flagship brand CCAvenue, Mr. Pramod Ganji has been included in Fortune India's 'List of Most Dynamic Personalities 2022'. The esteemed list has been published in this month's print edition of the Fortune Magazine. Apart from Pramod, the Fortune list comprises several other top performers and key strategists from the world of business.
An IIMA Alumnus, Pramod has a distinguished career span of 17 years handling crucial functions including Bank Alliances, Sales, Marketing and Business Development. Pramod is known for his aggressive task-oriented approach and proven ability to face challenges head-on. He leverages his marketing insights, business expertise and people management skills to augment revenue generating streams and deliver optimal results for his organization and its clientele. Pramod has been immensely successful in developing and handling strategic business alliances, while building high-performing teams internally. This January, Forbes Magazine had included Pramod amongst the Top 100 People's Managers in the country for the year 2021. The esteemed recognition was bestowed post a comprehensive study conducted in collaboration with the Great Manager Institute (GMI).
Speaking about the inclusion of his name in the prestigious list, Pramod said: "Thank you Fortune India for this wonderful recognition. I'm truly honored to be recognized amongst the most dynamic personalities in 2022. It is a testament to the combined efforts of the CCAvenue team and our outstanding achievements through the years. It has been an incredible journey overcoming challenges and achieving so much through innovative strategies and proactive leadership. I'd specially like to thank my seniors and team members for their unwavering support during my 12-year tenure with the organization."
Fortune India has followed an elaborate process to evaluate individuals based on their skill sets and publish the 'List of Most Dynamic Personalities 2022'. This list has been published in the print edition of the Fortune India Magazine in the first week of September 2022. You can also view the complete list online on various popular sites.
Click here
to view Pramod's profile in Fortune India's List of Most Dynamic Personalities.