Infibeam Avenues Wins 'Legal Team of the Year' Accolade at the Future of Legal Summit and Awards
14th Nov, 2019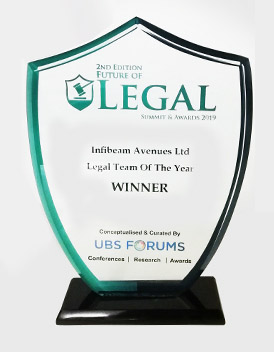 In recognition of its achievement in attaining the highest level of compliance and following ethical business practices, Infibeam Avenues has been adjudged winner in the 'Legal Team of the Year' category at the second edition of the Future of Legal Summit and Awards. Ms. Smita Shetkar, Chief Risk Officer, Infibeam Avenues' Payment Services Division, accepted the award on behalf of the company at the prestigious awards ceremony held on 14th November 2019 at the ITC Maratha in Mumbai.
The Future of Legal Summit serves as a comprehensive knowledge-sharing platform with the objective of transforming the legal function for the future. It brings together the heads of Legal, Regulatory and Compliance functions of various entities together to share ideas and insights on India's legal framework, while making them aware of the legal complications and risks that are arising in the business world due to the new age technology and volatile economic environment. This forum also seeks to highlight the way in which technology will be disrupting the legal department and the challenges and opportunities that lie ahead. The award ceremony acknowledges the path-breaking achievements of top performing brands in the legal, regulatory and compliance domains.
The Legal Team of Infibeam Avenues' Payment Services Division is committed towards driving the company to achieving the best industry practices by operating within the framework of RBI guidelines and applicable laws and regulations. Owing to the efforts applied by the legal team, Infibeam Avenues is now considered to be a zero-litigation company, as rarely the organisation is made a direct party to any litigation or claim by any third party.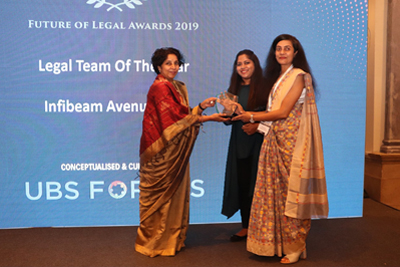 CCAvenue has made some giant leaps this year by taking home some of the most prestigious awards pertaining to the digital payments industry. These award ceremonies include the Treasury, Risk & Compliance Summit, Mastercard's Reach Acceptance Summit, MarTech Leadership, Indian eRetail Awards, Governance Now's BFSI Awards, ERM World Awards and Kamikaze's Payments & Cards Summit.
The Chief Risk Officer and Head of the Legal Department at Infibeam Avenues' Payment Services Division, Ms. Smita Shetkar stated: "Our Legal Department implements a robust compliance policy and deploys best-in-class set of processes of contract management that gives it the competitive edge in the online payments industry. The legal department has played a vital role in safeguarding the company's interest by framing internal policies, impeccable contracts and ensuring the highest level of compliances. We at Infibeam Avenues feel proud to receive this prestigious award in recognition of our efforts and achievements."
About Infibeam Avenues Limited

Infibeam Avenues Ltd. is India's leading B2B e-Commerce Solutions provider offering end-to-end e-Commerce software solutions through the internet to small and large merchants, enterprises and the government. The Company caters to customers across business verticals and includes many of the most established brands in India and internationally. The company's web-based e-commerce solutions include SaaS based ERP platform with strong integrated back-office tools for building and managing online stores, digital payment services, logistics solution and more. Infibeam Avenues also offers payment processing services to over 70% of India's e-Merchants through CCAvenue.com, a PCI DSS 3.2.1 compliant payment gateway platform. CCAvenue is India's largest direct debit engine, which connects to more than 58+ Indian banks in real time and processes all types of Credit Cards, Debit Cards and Digital Wallets including UPI payments. ResAvenue.com Hospitality Solution and BillAvenue.com, India's fastest growing BBPS based bill payment engine are among other SaaS solutions launched by the company. The company's web-services are used by over 400,000 merchants around the world. For more information, please visit www.Infibeam.ooo