Infibeam Avenues raises the benchmark yet again with ISO/IEC 27001:2013 Certification
1st May, 2021
Infibeam Avenues Limited is proud to announce the successful completion of the coveted
ISO/IEC 27001:2013 Certification from QRC
, an accredited management system certification body. This certification of compliance has been received for the Payment Services Division of Infibeam Avenues which provides the flagship
CCAvenue Payment Gateway
as well as other specialized payments solutions. The scope of the certification encompasses both the core and supporting processes including Information Security, Application Development, Quality Assurance, Content and Web Design, Technical Support, Marketing, Bank Alliances, Fraud Risk Management, IT and Database Administration, Operations, Legal, Compliance, and Human Resources.
ISO 27001:2013 is the most widely recognized standard in the world for Information Security Management
. People, Processes and Technology have been the three crucial elements of successful organizations for decades. Unlike PCI Data Security Standard which emphasizes on the technological aspects of an organization, ISO 27001 Standard focuses more on the people and the processes of an organization. So while PCI DSS ensures that the IT Infrastructure and Data Security of an organization is up to the mark, ISO 27001 makes it imperative for all employees to work towards the organizational goals with robust business processes aided by refined standard operating procedures that must be followed persistently with due consideration to the information security in order to minimize the risks to organizational assets.
This ISO 27001 certification bears testimony to Infibeam Avenues' adherence with globally recognized standards by providing an enhanced security layer to merchants and their customers. Infibeam Avenues has invested substantially on research, hardware and other resources to streamline processes, deploy proprietary and licensed third-party software, and optimize business efficiency by constantly monitoring various quality parameters and resolving issues, that may arise.
As a leader in the Indian Fintech space, Infibeam Avenues has always endeavored to stay ahead of the curve through its innovations and processes. Right from its inception, the brand has stood for quality, security and reliability. The ISO certification will further help the company in consolidating the security controls throughout all their business processes. It will boost the confidence of the merchants in CCAvenue even more and assure them that their data is secure through our best-in-class processes. Moreover, ISO certification will help Infibeam Avenues in being compliant with relevant laws, regulations and business requirements, thereby consolidating its position as the preferred partner for eCommerce businesses in India and abroad.
Mr. Vishwas Patel, Executive Director at Infibeam Avenues Limited and Founder of CCAvenue,
commented: "As a leading global Fintech solutions provider, our team at Infibeam Avenues is committed to maintaining a robust culture of security and privacy across all aspects of our business. In alignment with our vision to keep pace with the increasing risks in online transactions, we have adopted the ISO framework which strives continuously towards improvement in terms of enhanced data protection. Achieving ISO 27001:2013 certification is a significant milestone in our business journey and will inspire us to continue delivering the optimum level of service to millions of merchants globally who entrust us with their data."
About ISO/IEC 27001:2013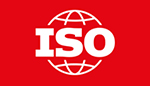 ISO/IEC 27001:2013 is an information security standard that was jointly published by the International Organization for Standardization (ISO) and the International Electrotechnical Commission (IEC). It provides organizations with a globally recognized, independent verification that the company is able to securely manage information security, retaining confidentiality, integrity and availability of all the data. Organizations which meet the standard are certified as compliant by an accredited certification body on successful completion of a formal compliance audit. The ISO/IEC 27001:2013 is the most popular information security standard worldwide and can be implemented in any kind of organization - profit or non-profit, private or state-owned, small or large and the like. To know more, visit
www.iso.org
About Infibeam Avenues Limited

Infibeam Avenues Limited is one of the leading global financial technology company offering digital payment solutions and enterprise software platforms to businesses and governments across industry verticals. The company's payment solution provides over 250 payment options to the merchants allowing them to accept payments through website and mobile devices in 27 international currencies. Infibeam Avenues' enterprise software platform hosts India's largest online marketplace for government procurement. The company processes transaction worth INR 900 billion for its 1 million+ clients across digital payments and enterprise software platforms. The company's vast clientele includes merchants, enterprises, corporations and governments in both domestic (India) as well as international markets. Infibeam Avenues' international operations are based in the United Arab Emirates with recent launches in the Kingdom of Saudi Arabia and the United States of America.