Infibeam Avenues sets new standards in Payment Security with PCI DSS 3.2.1 Certification
10th January, 2019
Infibeam Avenues, an eCommerce solutions provider, recently announced its newly formed compliance with PCI DSS version 3.2.1 certification. By acquiring the latest upgrade in standards of payment security, CCAvenue, an Infibeam Avenue payment gateway, has once again committed itself to provide an additional layer of data protection to its customers who wish to transact online. The latest version PCI DSS 3.2.1 was launched by the Payment Card Industry Security Standards Council (PCI SSC) to reduce credit card fraud and increase control over online payment security.
Infibeam Avenues was the first India based company to bag the PCI DSS certification way back in the year 2011. In response to an increasingly upward trend in digital payment technology and data protection, the organization has continued to maintain its standard of data security through periodical upgrades.
The Payment Card Industry Data Security Standard (PCI DSS) is a data security standard that is applied by businesses who wish to make secure online transact via credit cards. It establishes compliance protocols for managing sensitive cardholder data of online payment systems. The PCI DSS is mandated by major credit card providers including American Express, Discover Financial Services, JCB, MasterCard Worldwide, and Visa International. These standards ensure that storage, processing and transfer of cardholder data are secure.
In order to be PCI DSS compliant, CCAvenue has always adhered to its criteria for qualifying as a certified entity. This involves maintaining of secure networks for payment processing, data encryption, restriction of access to information and various other security controls. The latest version of PCI DSS certification to which CCAvenue has now complied with is the 3.2.1.
The Director at Infibeam Avenues, Mr. Vishwas Patel extolled the achievement with this statement "At CCAvenue we always strive to commit ourselves towards excellence be it in the area of digital payments or data security. With the latest upgrade of PCI DSS certification, we seek to serve our merchants and their customers with the most powerfully enhanced online payment security standards."
About PCI DSS 3.2.1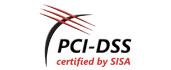 As an initiative to increase controls around cardholder data to reduce credit card fraud, the Payment Card Industry Security Standards Council was formed by five major credit card providers including MasterCard, American Express, Visa, JCB and Discover in the year 2006. To offer a proprietary information security standard to organizations that handle branded credit cards, the Council created Payment Card Industry Data Security Standard (PCI DSS). This standard provides a framework for developing a robust payment card data security process, including prevention, detection and appropriate reaction to security incidents. PCI DSS 3.2.1 is the latest version of the PCI DSS.
To know more, visit
www.pcisecuritystandards.org
About Infibeam Avenues

Infibeam Avenues Ltd. is India's leading B2B e-Commerce Solutions provider offering end-to-end e-Commerce software solutions through the internet to small and large merchants, enterprises and the government. The Company caters to customers across business verticals and includes many of the most established brands in India and internationally.
The company's web-based e-commerce solutions include SaaS based ERP platform with strong integrated back-office tools for building and managing online stores, digital payment services, logistics solution and more. Infibeam Avenues also offers payment processing services to over 70% of India's e-Merchants through CCAvenue.com, a PCI DSS 3.2 compliant payment gateway platform. CCAvenue is India's largest direct debit engine, which connects to more than 55+ Indian banks in real time and processes all types of Credit Cards, Debit Cards and Digital Wallets including UPI payments. ResAvenue.com Hospitality Solution and BillAvenue.com, India's fastest growing BBPS based bill payment engine are among other SaaS solutions launched by the company. The company's web-services are used by over 400,000 merchants around the world. Infibeam Avenues and its consortium partners also manage, design, develop, implement, operate and maintain the Indian Government's e-marketplace (GeM). For more information, please visit
www.Infibeam.ooo