Vishwas Patel, Director Infibeam Avenues, wins 'Payments Entrepreneur of the Year' Award at the Payments Cards Summit 2019
6th Aug, 2019
In recognition of his prodigious achievements as a pioneer and leader in the digital payments industry, Mr. Vishwas Patel, Director at Infibeam Avenues, bagged the Payments Entrepreneur of the Year accolade at the Payments & Cards Awards 2019. Mr. Mohan Nair, Chief Marketing Officer at Infibeam Avenues received the award on behalf of Mr. Patel at the ceremony. This awards function was part of the Payment & Cards Summit hosted by Kamikaze B2B Media at The Westin Garden City, Mumbai on 6th Aug, 2019.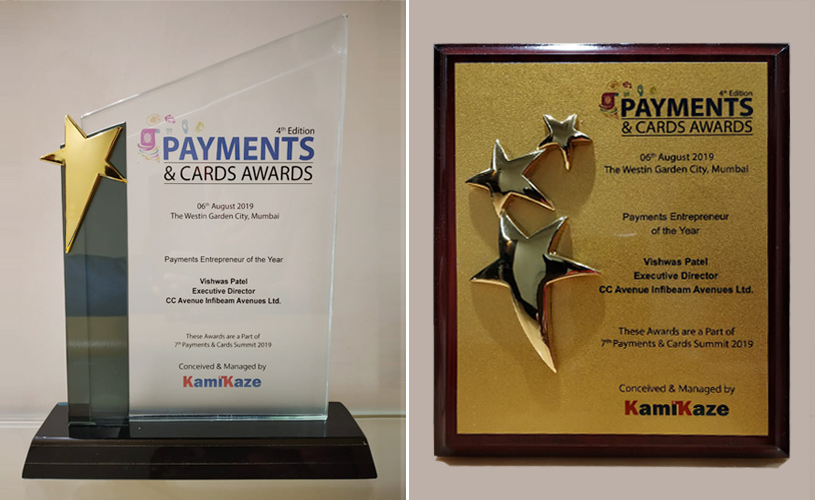 In an endeavor of creating opportunities for individuals and organizations to engage with experts from the payments industry, Kamikaze B2B Media organizes the Payments & Cards Summit Awards event where the industry's most promising issuers, networks, retailers, e-tailers and innovators are honored with prestigious awards to recognize their remarkable performance in business. This event is not only perceived by the industry as a premier payments conference but also as a platform to gather insights on payments innovation and find the right kind of solutions on how to best run their business. One of the significant goals of Payments & Cards Summit is to assemble the payments community in order to understand the future-state of payments and the way it will create an impact on the nation, as individuals and as industry.
An innovator in digital payments, Vishwas has set high benchmarks in the sphere of online payments by introducing and nurturing internationally recognized brands such as CCAvenue and ResAvenue. Founded in 2001 by Vishwas, CCAvenue is a leading payment gateway organized to provide best-in-class payment processing services to over hundred thousand plus e-Merchants globally. Vishwas is the chairman of the Payments Council of India (PCI), the apex non-government body in the country that represents companies in the payments and settlement system. Besides his recent accomplishment, Vishwas has also been honored with several major awards including the Asia-Pacific Information Security Leadership Award, which was organized by (ISC)2, the non-profit global leader in educating and certifying information security professionals.
Infibeam Avenues' Chief Marketing Officer, Mr. Mohan Nair stated "I thank the jury and the organizers on behalf of Vishwas Patel as I receive this award on his behalf. This award brings joy to all of us working at Infibeam Avenues, a sense of pride to be led by a pioneer in the payment aggregation business in India, especially a business model which has proven to be exceptionally sustainable and viable since 2001, our year of inception. In addition to leading the business, Vishwas has worked tirelessly for the development of the overall eco-space and has made many representations with regulators and other constituents of the eco-space for the benefit of the payment aggregator community as a whole. Thank you very much once again for the award in appreciation to his contribution."
About CCAvenue

A flagship brand of Infibeam Avenues, CCAvenue is a digital platform offering payment processing solutions to eCommerce businesses in India. Being PCI DSS 3.2.1 compliant, it has been designed to assist 1 lakh+ merchants accept online payments through a wide range of payment options including 6 major Credit Cards, 98+ Debit Cards (All MasterCard /Visa /Maestro /RuPay Cards), Amex EzeClick, 59+ Net Banking, Mobile Wallets, UPI and up to 14 Multi Bank EMI options. CCAvenue also provides unparalleled features such as Multiple Currency Processing, CCAvenue S.N.I.P. (Social Network In-stream Payments), Advanced Marketing Tools, Easier Checkouts, Automated Electronic Invoicing, etc.