CCAvenue awarded 'Most Preferred Workplaces in BFSI 2022' Recognition for its Vibrant, Employee-friendly Work Environment
15th December, 2022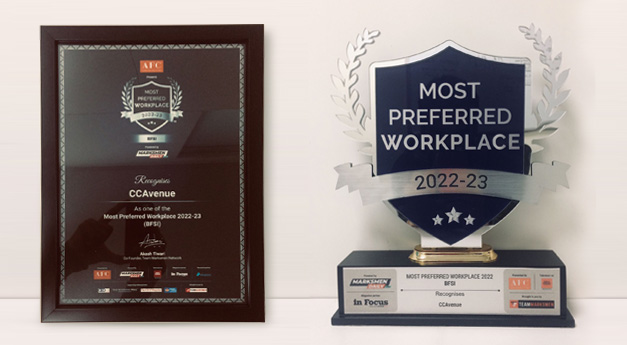 Infibeam Avenues' flagship brand CCAvenue was recognized as among the Most Preferred Workplaces in the BFSI Sector for the year 2022 by Team Marksmen at their prestigious felicitation ceremony held at the Sahara Star Mumbai on 15th December 2022
. Ms Anshu Tripathi, DVP - Human Resource, Infibeam Avenues Ltd accepted the esteemed accolade on behalf of the organization during this grand event.
The Most Preferred Workplace series is an industry platform which rates organisations based on key workforce-oriented parameters such as Employee Centricity, Organisational Purpose, Digital Dexterity, Work Flexibility, Diversity and Equality, Growth and Rewards-based Policies and Retention Strategies. In this edition, Team Marksmen felicitated the leading brands from banking, financial services and insurance sector that have particularly succeeded in their holistic reorientation of the business landscape, which has seen them create an employee experience that is meaningful, collaborative, and inspiring.
Since its inception in 2001, CCAvenue, India's leading payment aggregator has been offering the ideal workplace to its employees. Through its positive work culture, inspirational leadership, and consistent employee experience, CCAvenue has always raised the bar in terms of workplace standards in the Indian BFSI sector. Its employees take pride in what they do and strive hard to achieve preset goals while maintaining an excellent work-life balance.
Speaking on the win,
Ms Anshu Tripathi, DVP - Human Resource
stated: "We profoundly thank the jury and organizers for recognising CCAvenue as among the most preferred workplaces in the BFSI sector during 2022. The senior management and HR unit of Infibeam Avenues are continuously formulating and implementing policies that enable our employees to thrive not only professionally but personally as well.We are focused on providing a safe, healthy and stimulating work environment which would not only help them attain their full potential,but go a long way in delivering positive outcomes for our large clientele as well".
CCAvenue has bagged several awards and recognitions in 2022 including wins at the Unlocked Awards 2022, 12th India Digital Awards, Business Innovation Awards, Drivers of Digital (DOD) Awards, Economic Times Best BFSI Brands 2022, The ASSOCHAM 2nd Fintech & Digital Payments Awards 2022, The Digital Dragons Awards 2022, The Corporate Titan Awards, Inn Tech Awards 2022 and Governance Now's BFSI Awards 2022.
About CCAvenue

CCAvenue, the flagship brand of Infibeam Avenues Limited, is a PCI DSS 3.2.1 compliant payments platform for eCommerce businesses in India. The organization serves millions of merchants spread across verticals such as Retail, Travel, Real Estate, Telecommunication, Government departments, and Utility billers, Hospitality, Education and Healthcare. It enables merchants to accept online payments through a spectrum of new-age payment options including 6 major Credit Cards, 97+ Debit Cards (All MasterCard / Visa / Maestro / RuPay Cards), Amex EzeClick, 58+ Net Banking, Mobile Wallets, UPI and up to 15 Multi Bank EMI options.