CCAvenue Payment Gateway Declared 'Fintech of the Year' at the Tech India Transformation Awards 2023
17th June, 2023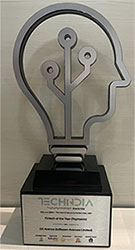 In acknowledgement of its trendsetting payments innovation and market leadership in the Indian digital payments ecospace for over two decades, Infibeam Avenues' leading payment aggregator CCAvenue has won the 'Fintech of the Year' accolade at the Tech India Transformation Awards 2023. Mr. Pranjal Pandey, Dy. Vice President, Infibeam Avenues Ltd accepted the award on behalf of the organization during the grand ceremony at the MSME India Business Convention 2023 organized by Industry Live. The prestigious event was held at the Leela Ambience Convention Hotel, Delhi on 17th June 2023.
Tech India Transformation Awards 2023 aims to recognize and celebrate the achievements in this segment for their significant contributions in ensuring business continuity. These awards highlight tech firms that have excelled in their respective lines of business, while being relevant to the current times and those ventures which have successfully refashioned themselves to overcome gaps in the prevailing technologies. The previous two editions of the MSME convention were a resounding success with overwhelming participation from over 2500 delegates learning from 70+ speakers.
Infibeam Avenues has won this title after a 2-year gap. This time it has won the award for its recent innovations including the omni-channel CCAvenue Mobile App with integrated TapPay feature. The CCAvenue Mobile App makes it easy to collect payments on the go through QR codes (QRPay), quick payment links for credit / debit cards and netbanking payments (LinkPay) as well as the proprietary Tap & Pay solution for card present payments on NFC-enabled Android phones (CCAvenue TapPay). This most advanced payments app also empowers businesses, enabling them to track payment status, issue refunds, capture or cancel payments, and monitor business performance from anywhere 24x7. CCAvenue TapPay is India's first certified Pin-On-Glass solution that securely accepts transactions over ₹ 5000 - a complete game changer for big-ticket businesses.
Commenting on the win,
Mr. Vishwas Patel, Executive Director, Infibeam Avenues Ltd and CCAvenue founder
stated: "This esteemed award emphasizes the prominent role CCAvenue has played in the Indian Fintech sector for the past 23 years. We thank the organisers for recognising our persistent efforts and numerous achievements in our business journey. By leveraging cutting-edge technology and our rich domain expertise, CCAvenue has succeeded in carving a niche for itself in the sector through the competitive advantage it has over other Fintech entities."
CCAvenue has recently retained the esteemed title of 'Superbrands' for the year 2023-24. The leading payment gateway has won numerous awards this year including 'Business App of the Year' title at the Idea Awards 2023, 'Best Tech for E-Commerce' accolade at IAMAI's 13th Digital Awards, 'Best Payments Solution Provider of the Year' at Economic Times' BFSI Excellence Awards 2022, 'Best Use of Technology' and 'Best Innovator' accolades at the Unlocked Awards 2022, 'Best Tech for E-Commerce' award at the 12th India Digital Awards, 'Best Online Payments Solution - Merchant' title at the Business Innovation Awards and 'Best Online Payments Solution' title at the Drivers of Digital Awards 2022.
About CCAvenue

CCAvenue, the flagship brand of Infibeam Avenues Limited, is a PCI DSS 3.2.1 compliant payments platform for eCommerce businesses in India. The organization serves millions of merchants spread across verticals such as Retail, Travel, Real Estate, Telecommunication, Government departments, and Utility billers, Hospitality, Education and Healthcare. It enables merchants to accept online payments through a spectrum of new-age payment options including 6 major Credit Cards, 97+ Debit Cards (All MasterCard / Visa / Maestro / RuPay Cards), Amex EzeClick, 58+ Net Banking, Mobile Wallets, UPI and up to 15 Multi Bank EMI options.