CCAvenue wins 'Business App of the Year' title at the Idea Awards 2023
14th March, 2023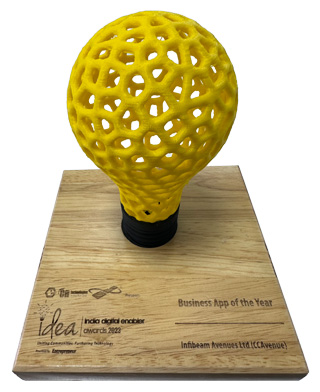 As an affirmation of its influential leadership and technological excellence in the Indian Fintech space, CCAvenue payment gateway has been awarded the 'Business App of the Year' accolade at the Idea Awards 2023 organised by Entrepreneur India
.
Mr. Rahul Hirve, CEO, CCAvenue TapPay accepted the award on behalf of the organization at the presentation ceremony held at the Hotel Hilton, Bengaluru on 14th March 2023.
The Business App of the Year award is given to what is recognised to be the best mobile app that had driven disruption and change in the year. The award was given to CCAvenue in acknowledgement of the extensive reach and efficiency of the omni-channel CCAvenue App with the integrated TapPay solution.
The Idea (India Digital Enabler) awards celebrated the individuals and organisations across India that enable citizens to transform and enrich their lives through the benefits and opportunities created by digital technologies. The awards recognize the most innovative projects, leadership and digital transformation cases which present a disruptive and innovative approach to customer experience, IT Management and new digital business models. Idea is an effort towards felicitating the diverse tech & digital communities who use technology in creating a better nation and inspiring other similar communities to shine.
CCAvenue, Infibeam Avenues' flagship brand is a leading Indian payment aggregator with over 22 years of rich domain experience in the digital payments space. Its CCAvenue Mobile App is designed for dynamic businesses continuously on the move. This most advanced omni-channel app makes it easy to collect payments on the go through static and dynamic QR codes (QRPay), quick payment links for credit/debit cards and netbanking payments (LinkPay) as well as the proprietary Tap & Pay solution for card present payments on NFC-enabled Android phones (CCAvenue TapPay). It also empowers businesses, enabling them to track payment status, issue refunds, capture or cancel payments, and monitor business performance from anywhere 24x7.
Speaking on the accolade,
Mr. Pankaj Dedhia, Chief Business Officer, Infibeam Avenues Ltd
commented: "Technology has always been a key differentiator in the Indian digital payments ecospace. We at CCAvenue have been harnessing the latest payment innovations to deliver advanced offerings that boost the growth of lakhs of online businesses on-boarded on our platform, while providing an enhanced transaction experience for end customers. The CCAvenue mobile app with integrated TapPay solution has raised the bar higher by providing merchants with the most advanced omni-channel platform for tracking, managing and collecting payments. We thank the organisers of the Idea awards for acknowledging our efforts and achievements over the years."
2023 is already proving to be a successful year for Infibeam Avenues. It has already won multiple awards and recognitions in the past few months such as the 'Superbrand' title for CCAvenue by Superbrands India, 'Best Payments Solution Provider of the Year' at the ETBFSI Excellence Awards 2022 and 'Best Tech for E-Commerce' at IAMAI's 13th India Digital Awards.
About CCAvenue

CCAvenue, the flagship brand of Infibeam Avenues Limited, is a PCI DSS 3.2.1 compliant payments platform for eCommerce businesses in India. The organization serves millions of merchants spread across verticals such as Retail, Travel, Real Estate, Telecommunication, Government departments, and Utility billers, Hospitality, Education and Healthcare. It enables merchants to accept online payments through a spectrum of new-age payment options including 6 major Credit Cards, 97+ Debit Cards (All MasterCard / Visa / Maestro / RuPay Cards), Amex EzeClick, 58+ Net Banking, Mobile Wallets, UPI and up to 15 Multi Bank EMI options.