CCAvenue secures 'Innovative Payments Solutions Provider of the Year' title at the ETBFSI Exceller Awards 2023
9th November, 2023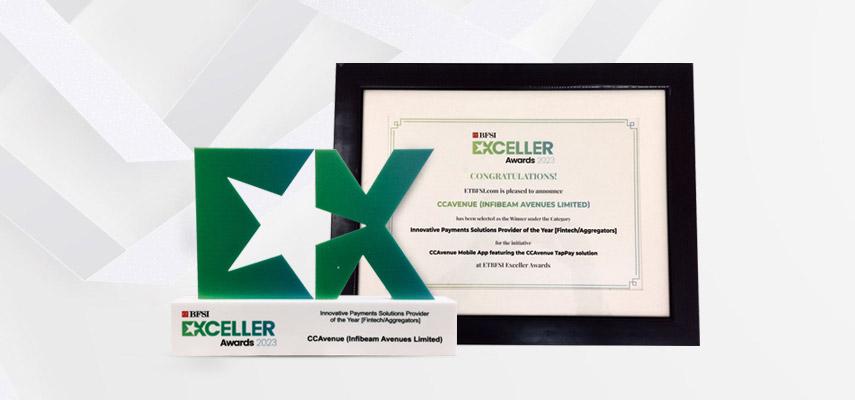 Celebrating decades of success as a leading digital payments facilitator, Infibeam Avenues brand CCAvenue has now added another entry to its history of accomplishments. The payment gateway recently bagged an esteemed title of 'Innovative Payments Solutions Provider of the Year' by ETBFSI.com, for its exemplary achievement in transforming payments through the notable CCAvenue Mobile App and the CCAvenue TapPay solution. The brand was honored at a ceremony organized by Times Internet, on November 9th, 2023, at Sahara Star, Mumbai. The 5th Edition of ETBFSI Exceller Awards 2023 is an annually organized event aimed at recognizing the best innovations from companies in the BFSI sector.
The 5th Edition of Economic Times BFSI Exceller Awards received participation from entities including Insurance Companies, NBFCs, Banks, Housing Finance Companies, Asset Management Companies, MFIs, NeoBanks, FinTechs, and Corporates providing services or solutions to the BFSI sector. The event was strategically organized to honor business enterprises that proved their dedication towards millions of consumers while dealing with stiff competition in their domain. ETBFSI presumed the responsibility of rewarding various projects that have created a unique and favorable impact on their own respective industry.
A renowned payment gateway, CCAvenue was honored with the prestigious ETBFSI accolade for its CCAvenue Mobile App featuring CCAvenue TapPay, a breakthrough solution in the Fintech space. With admirable features that render digital payments absolutely seamless for numerous startups and large scale businesses, the payment aggregator's Mobile App is the world's first and most advanced Omni-channel payment platform featuring the innovative TapPay, India's first Pin-On-Glass solution.
CCAvenue also has various other credits to its name this year. To list a few, the payment gateway has been awarded the coveted title of 'Superbrands' 2023-24, 'Business App of the Year' title at the Idea Awards 2023, 'Best Tech for E-Commerce' accolade at IAMAI's 13th Digital Awards, 'Best Use of Technology' and 'Best Innovator' accolades at the Unlocked Awards 2022, 'Best Tech for E-Commerce' award at the 12th India Digital Awards, 'Best Online Payments Solution - Merchant' title at the Business Innovation Awards and 'Best Online Payments Solution' title at the Drivers of Digital (DOD) Awards.
Elaborating on the win, the Chief Business Officer at Infibeam Avenues, Mr. Pankaj Dedhia stated, "The current Fintech space is presented with innumerable challenges and it is an uphill task to recognize the most splendid performers from such a highly competitive industry. At Infibeam Avenues, we are proud to be a part of ETBFSI's brilliant move in this direction. We sincerely thank ETBFSI for acknowledging our work in the path of digital payments. Our team has worked tirelessly to provide the most seamless payments technology to our treasured clients and their customers. This became a possibility through our most cherished innovation, the CCAvenue Mobile App and TapPay Solution which is designed to digitize cash transactions, enable a large number of businesses to accept payments securely, and to enhance the scope of digital payments."
About CCAvenue

CCAvenue, the flagship brand of Infibeam Avenues Limited, is a PCI DSS 3.2.1 compliant payments platform for eCommerce businesses in India. The organization serves millions of merchants spread across verticals such as Retail, Travel, Real Estate, Telecommunication, Government departments, and Utility billers, Hospitality, Education and Healthcare. It enables merchants to accept online payments through a spectrum of new-age payment options including 6 major Credit Cards, 97+ Debit Cards (All MasterCard / Visa / Maestro / RuPay Cards), Amex EzeClick, 58+ Net Banking, Mobile Wallets, UPI and up to 15 Multi Bank EMI options.