CCAvenue confirms a double win of 'Best Digital Payment Facilitator' and 'Most Innovative Mobile App' titles at Drivers of Digital Awards & Summit 2022
5th May, 2023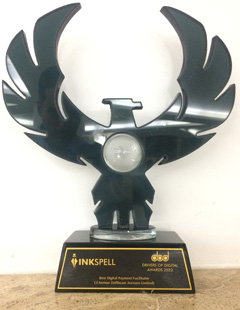 A leading payment gateway brand of Infibeam Avenues, CCAvenue recently won two distinguished titles of 'Best Digital Payment Facilitator' and 'Most Innovative Mobile App' at the Drivers of Digital Awards & Summit 2022 event organized by Inkspell & India Creative Industries Council. The event was held through a virtual award ceremony on the 5th of May 2023. The payment aggregator was conferred with these esteemed honors for its outstanding contribution in the space of digital and automated payments. CCAvenue was also recognized as the provider of the most innovative app for its CCAvenue Mobile App, the world's first and most advanced Omni-channel payment platform featuring the innovative CCAvenue TapPay, India's first Pin-On-Glass solution. The awards were a part of the 7th Annual Drivers of Digital 2022 initiative by Inkspell in association with Global Trends Forum.
The 7th Annual Drivers of Digital Awards is a leading program aimed at acknowledging, identifying and rewarding organisations that have played a pivotal role in transforming the market through enhancement of digital and automated processes. The Jury of this program consists of various industry experts and stakeholders who have been associated with Drivers of Digital Awards to add to its unmatched value and credibility over the years. The theme of this event was designed as "Possibilities Ahead" in 2023 which is a concept on how business leaders and marketers can efficiently ride into achieving business growth for brands when the global economy expects a sharper-than-expected slowdown. The program was also conceptualised to offer a wide spectrum of branding and partnership opportunities with industry players.
One of the top providers of payment gateway solutions, CCAvenue has received worldwide acclaim for its path-breaking technology, the CCAvenue Mobile App, the world's first and most advanced Omni-channel payment platform supporting CCAvenue TapPay, India's first Pin-On-Glass solution. The organisation is also well known for developing a next-gen SoftPoS solution that is designed to enable millions of Indian based small businesses and entrepreneurs to accept digital payments securely and easily.
CCAvenue has made remarkable achievements recently through its multiple wins of accolades including the 'Best Digital Payments App of The Year' award for its Innovative Mobile App and TapPay solution at the Kamikaze B2B Media Awards, 'Business App of the Year' title at the Idea Awards 2023, 'Best Tech for E-Commerce' accolade at IAMAI's 13th Digital Awards, and 'Best Payments Solution Provider of the Year' at ETBFSI Excellence Awards 2022. Prior to this, the payment gateway has earned the esteemed title of 'Superbrands' 2023-24, 'Best Use of Technology' and 'Best Innovator' accolades at the Unlocked Awards 2022, and 'Best Tech for E-Commerce' award at the 12th India Digital Awards.
Commenting on the win,
The Chief Business Officer at Infibeam Avenues, Mr. Pankaj Dedhia said
, "The CCAvenue Omni-Channel Mobile App and its TapPay solution are technologies set to define new pathways in the space of digital payments. Through this innovation, we seek to disrupt the existing PoS market, and encourage the use of digital payments as a means to help customers minimize their cost, as our services add convenience and speed to their payments experience. We thank Inkspell Media for this honor and to the jury for their keen perspective and insight. This truly motivates us and confirms the potential of our efforts in the direction of providing dynamic payment solutions to our esteemed merchants across the country."
About CCAvenue

CCAvenue, the flagship brand of Infibeam Avenues Limited, is a PCI DSS 3.2.1 compliant payments platform for eCommerce businesses in India. The organization serves millions of merchants spread across verticals such as Retail, Travel, Real Estate, Telecommunication, Government departments, and Utility billers, Hospitality, Education and Healthcare. It enables merchants to accept online payments through a spectrum of new-age payment options including 6 major Credit Cards, 97+ Debit Cards (All MasterCard / Visa / Maestro / RuPay Cards), Amex EzeClick, 58+ Net Banking, Mobile Wallets, UPI and up to 15 Multi Bank EMI options.