Infibeam Avenues' Sr. Vice President Pramod Ganji once again included among India's Top 100 Great People Managers by GMI
26th May, 2023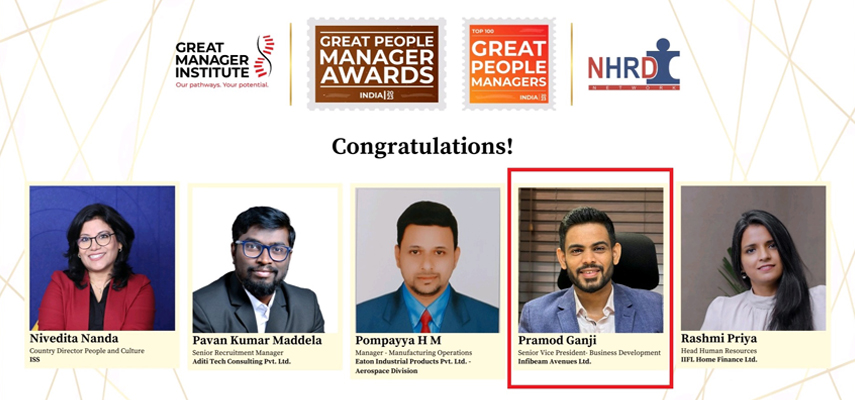 In acknowledgement of his effective leadership that has contributed to the success of his team and organization, the Great Manager Institute (GMI) has yet again recognised Infibeam Avenues' Sr. Vice President Mr. Pramod Ganji amongst India's Top 100 Great People Managers 2023. This prestigious honour was conferred on Mr. Ganji during the virtual felicitation event held on 26th May 2023.
The Great Manager Institute completed an elaborate evaluation process to identify individuals possessing exceptional managerial skills as well as organizations that create effective people managers, mainly in context with the current scenario where there are rapid changes in the work ecospace. Managers from all categories, seniority levels, disciplines, tenure, and age groups are included in this list of Top 100 people's managers. This comprehensive study was conducted to assess the overall effectiveness of their people management skills through a multi-layered methodology.
Pramod is an IIMA Alumnus with 18 years of distinguished performance in handling varied functions, including Bank Alliances, Marketing, Sales and Business Development. He currently oversees the Business Development function at Infibeam Avenues Ltd.
Known for his aggressive task-oriented approach and proven ability to face challenges head-on, Mr. Ganji has been immensely successful in creating and managing strategic business alliances, while building high-performing teams internally. He leverages his business expertise, marketing insights, and exceptional people management skills to build revenue generating streams from scratch and deliver optimal results for his organization and its esteemed clientele.
"I'm truly honoured and thrilled to be recognized as amongst the top 100 people managers in India", said Mr. Pramod Ganji. "Thank you GMI for appreciating my efforts. Your noble initiative in identifying great people managers will positively impact the corporate ecosystem at large. I'd also like to thank my organization Infibeam Avenues for trusting in me and giving me the opportunities while extending unwavering support. This award will motivate me to continue working towards the growth and prosperity of my team and my organization."