CCAvenue partners with Twid for its "Pay with Rewards" platform
21st July, 2022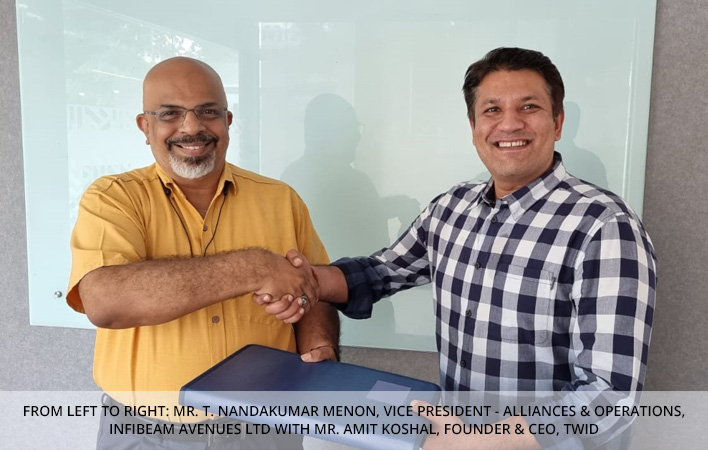 In a move aimed at augmenting the sales of millions of merchants on-board its advanced platform, CCAvenue, the flagship brand of Infibeam Avenues has signed a deal with Twid, one of India's leading rewards-based payment networks. The partnership will boost savings for millions of consumers and drive incremental spends on the large network of merchant websites powered by CCAvenue.
Founded in 2020, Twid is a network effect platform that combines multiple loyalty / reward points across issuers such as banks, FinTech firms, and Retail / e-Commerce brands. It allows consumers to pay at offline and online stores with a 'one-click-checkout' experience using their reward points. Twid's "Pay with Rewards" system is a new age payments method that increases conversions on merchant's website by allowing consumers to leverage the total points collected offline or digitally from past transactions.
With over 40 Million registered users, and 50,000+ live merchants, Twid has a payment network of banks, brands, non-bank payment partners, merchants, and customers. Additionally, it provides access to over $2Bn in the reward points pool with its issuer partners and processes over 5% of digital transactions for many of its marquee merchant partners.
"We at CCAvenue firmly believe in equipping businesses on-board our platform with the latest Fintech innovations as well as the maximum number of payment options," said
Mr. T. Nandakumar Menon, Vice President - Alliances and Operations, Infibeam Avenues Ltd.
"Infibeam Avenues' partnership with Twid will surely be a game-changer for Indian eCommerce as it combines the power and efficiency of our payments processing platform with the exceptional value addition provided by their "Pay with Rewards" platform. Moving forward, CCAvenue shall be implementing many such solutions on our platform, which offer innovation, ease of use and enhanced customer satisfaction, thereby enabling our merchant partners to drive revenue like never before."
Mr. Rishi Batra, Co-Founder & COO, Twid
said: "We are very excited to partner with CCAvenue and add incremental business to the very large base of merchants of CCAvenue. With over $2Bn in additional liquidity that twid has access to from its Reward Points partner, the GMV potential that we expect to drive with CCAvenue is immense."
The Loyalty Programs Market is expected to grow by 12.6% on an annual basis to reach US$ 142636.8 million in 2022. And, as the online payments ecospace in our country continues to expand and evolve, we can look forward to the introduction of many more innovative customer-friendly solutions.
About twid

Twid (That's What I Do) is one of India's leading rewards-based payment networks. It brings together different rewards points systems across issuers to a single platform. With Twid, consumers can access all of their rewards from banks, brands, travel, dining on one platform and make payments for their daily spends. Twid's network of merchants consists of offline retailers, online partners, restaurants, hotel and flight aggregators, and more. The Twid platform currently has on-board 10+ Issuer Partners, 50,000+ live merchants and brands and over 40 Million customer base.
The company was founded in Bengaluru in October 2020 by Amit Koshal, Rishi Batra and Amit Sharma. Amit Koshal and Amit Sharma both held leadership positions at Intuit, while Rishi led marquee investments at Bennett, Coleman and Company.
To learn more about twid, please visit their website at
https://twidpay.com/
About CCAvenue

CCAvenue, the flagship brand of Infibeam Avenues Limited, is a PCI DSS 3.2.1 compliant payments platform for eCommerce businesses in India. The organization serves millions of merchants spread across verticals such as Retail, Travel, Real Estate, Telecommunication, Government departments, and Utility billers, Hospitality, Education and Healthcare. It enables merchants to accept online payments through a spectrum of new-age payment options including 6 major Credit Cards, 97+ Debit Cards (All MasterCard / Visa / Maestro / RuPay Cards), Amex EzeClick, 58+ Net Banking, Mobile Wallets, UPI and up to 15 Multi Bank EMI options.