The Telecom revolution in India which started in the mid 90's seems to be on the rampage with the advent of newer technologies by the day. CCAvenue realizes the potential of this techno-mobility phenomenon and brings to you the CCAvenue Mobile Checkout Page.
With the advent of affordable smart phones and 3G services in India, the accessibility of internet on mobiles has increased multi-fold. In India internet traffic via mobile phones has overtaken desktop internet usage in 2012.
Some Interesting and Relevant Facts and Figures:

A report by Nokia Siemens Networks has revealed a 54 per cent increase in mobile data traffic in India between December 2011 and June 2012. (source)
According to a report by Boston Consulting Group (BCG), there is more than an ample scope for mCommerce in India. At present, India has over 800 million mobile subscribers, including 240 million with bank accounts, and 20 million with credit cards; there are 88,000 bank branches and 70,000 cash points. The additional fact is that the half of Indian households is still unbanked, including 42% holding at least one mobile phone. This opens a great opportunity for mobile phone industry and financial institutions to galvanize mobile commerce services in India.
(source)
The latest BCG report has also projected that the fee-based revenue from mobile commerce could be well over $4.5 billion by 2015 in India. Banks, mobile service providers and device manufacturers all have considerable opportunity to generate this revenue.
(source)
Realizing the need of the future, wherein e-commerce would be majorly dominated by m-commerce, CCAvenue in yet another pioneering effort has launched its payment page compatible with mobile phones. Now you can confidently offer your customers a smooth and easy user-interface to make secure payments when they are shopping through their mobile phones.
Depicted below is a snapshot of the user-friendly CCAvenue Mobile Checkout Page :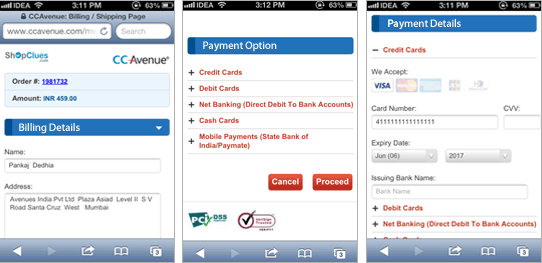 The CCAvenue Mobile Checkout Page feature is activated by default & is made available to all our merchants. To cater to the largest possible mobile user customer audience, the CCAvenue Mobile Checkout Page has been designed to be compatible with iOS, Android, Windows Phone, Symbian, BlackBerry etc..
Since 2001, CCAvenue has always strived to be in the forefront in bringing to you innovative payment options. The CCAvenue Mobile Page is yet another example of our efforts to enable convenience and speed in performing mobile transactions. As always CCAvenue once again offers it's valued merchants an opportunity to widen their customer reach and to augment their revenue stream!!